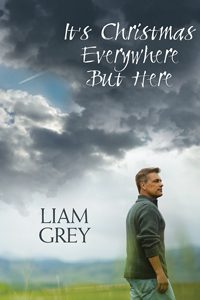 Novel: It's Christmas Everywhere But Here
Author: Liam Grey
Genres: Family, Holiday, Military, Romance
Released: 2014
Part of Book Series: Standalone
Summary: Christmas brings dreams of peace, love, and family time for most. Sadly, Russell Moore isn't so blessed. Since his coming out and marriage prompted a less-than-joyful reaction from his religious parents, Russ has kept his distance to avoid their conservative disapproval. With his husband David deployed overseas for the second Christmas in a row, Russ gives in to the loneliness and takes his stepchildren to meet his parents for the first time, hoping the "goodwill toward men" spirit will overcome his mother's zealotry.
But Russ's Christmas joy is too quickly deflated by his mother's unmet expectations, leaving Russ to ponder if peace, love, and perhaps matricide go hand in hand.
---
Post's Author Opinion:
Note: This is a personal opinion, it does not reflect YaoiOtaku's official position towards the novel.
This book is proof that you may not be able to choose the family you are born into, but you can certainly choose a family to stick with. It's Christmas Everywhere But Here is not a typical Christmassy book with Christmas spirit, magical holiday feels and lots of laughing cheer. As cliché as it sounds, this book is about family; although one is making life difficult while the other is a life support.
Dealing with an impossible, selfish and judgmental mother was more than what Russell had bargained for when he agreed to visit his family for Christmas. His young stepson was having difficulties to adjust to the changes due to his Asperger's syndrome and having his mother meddled in the way he raised his stepchildren made it worse. Russell was missing his husband so dearly, but with his understanding ten-year-old stepdaughter as a sidekick, it was somewhat bearable.
Russell's mother was the kind of character I would kill first if this was a crime/mystery novel. The woman was awful and I can't even bear the thought of going anywhere within a ten foot distance of her. Some might see her as a "good meaning" mother, but really, I couldn't feel her love at all other than for herself. Thankfully, Russell's father and younger brother, Max were more understanding and accepting of his family. If it weren't for them, Christmas would be hell for Russell and his two kids.
Russell's dilemma didn't end at Christmas. His US Army husband, Sergeant David Atwood's condition was also plaguing Russell's mind. Really, this guy deserves a day off at a spa and grizzly hugs – he had been through a lot in the two years David was stationed overseas. The romance between Russell and David was not the main focus until later in the book. It was a good way to shift the misery of the events happening earlier. Also, the ending was rather sweet where the family, the one Russell chose for himself, sit together and celebrate the joy of being home.
I loved this book and would give it five stars, but I hope there was more about how Russell and David became a family. It was mentioned in passing, but I'd like to know in detail about their life, their characteristics and backgrounds. It is also a little short, but all in all, this is a Christmas-themed book worth reading and I would definitely recommend it.
What's your opinion on It's Christmas Everywhere But Here novel? Please let us know in the comments below.