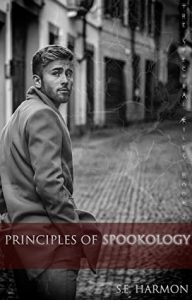 Novel: Principles of Spookology
Author: S.E Harmon
Genres: Paranormal, Crime, Romance
Released: 2020
Part of Book Series: The Spectral Series (#2)
Summary: No one said being a medium would be easy.
Rain Christiansen, former FBI agent and current cold case detective, is starting to think it's the hardest job he's ever had—and the most important. He's determined to accept all the changes in his formerly well-ordered life, but that means embracing a whole lot of weird. There's no instruction manual for meshing his work with his medium duties, and he's painfully aware that he's flubbing the job. So are the ghosts, who are becoming increasingly impatient. And stronger.
To complicate matters, he's not sure what these spooktacular developments mean for his relationship. It certainly seems like Daniel McKenna, his partner in work and life, is in it for the long haul. But Rain can't help but wonder how long that patience will last…and what he'll do if Danny decides the intrusive ghosts are just too much.
Rain thought accepting his supernatural gifts would be the solution to his troubles. But he's starting to realize his problems are just getting started.
---
Post's Author Opinion:
Note: This is a personal opinion, it does not reflect YaoiOtaku's official position towards the novel.
It would be redundant if I tell you how much I liked the main character of this book, so I would try rephrasing it as little as possible as Dr. Rainstorm Christiansen now embraced the reality that he is a medium – or bridge, as the ghosts dubbed him – and works for the Paranormal Tactical Unit with his steady boyfriend as the boss of the new team.
I loved that Rain's new case is more complicated this time and he's no longer a one-man team. He is also trying to be subtle at taking over Danny's home by replacing the furniture one item at a time while maneuvering around the ghosts who don't understand the concept of privacy. Rain is peachy and all and there is never a dull moment in his life. Really, I don't have much to complain about…
…other than a few characters that I found to be very annoying this time around – namely his parents. It is always the parents. And the fact that Danny pushes him to see spirituality "experts" at the suggestion of Rain's mother is a really a douchey move in my opinion. I mean, he is seeing ghosts, not a recurring alcoholic. There is nothing wrong about seeking help, but I think Danny should have taken the time to sit down and have Rain explain to him about his new life purpose to the best of his ability before he leaves the skeptical guy at some scam artists' doors. He should have known it won't end up well.
Nevertheless, I was quite happy with this book. I'm looking forward to read the third one as soon as I'm done here. Oh, and if you were ever curious of what middle name Rain's hippie mum almost given him, you need to check out this book. Hint: his first name is Rainstorm, it won't be any less poetic than that.
What's your opinion on Principles of Spookology novel? Please let us know in the comments below.