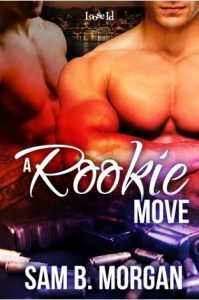 Novel: A Rookie Move
Author: Sam B. Morgan
Genres: Romance, Police/Cops, May-December Romance
Released: 2012
Part of Book Series: Standalone
Summary: Fifteen years with the Los Angeles Police Department, Mike Graham is a seasoned cop and a damn good training officer. On the brutal streets of LA, he's witnessed every type of crime and taught countless rookies how to survive while they protect and serve. Nothing surprises him anymore. That is, until he meets Nathan York.
Nathan York shouldn't be a cop. With his Beverly Hills background and pretty boy good looks, he's fit for the land of movie stars and nose jobs. Too bad being LAPD is all he's ever wanted. No longer a rookie, he thinks he's ready for anything, even if the next challenge is working with his hard-assed yet magnetic ex-training officer.
Partners on the job, Mike and Nate both struggle with an attraction that has no place in their world. Their explosive chemistry reaches a point it cannot be ignored, but the same chemistry that consumes them could destroy the very thing that binds them together.
---
Post's Author Opinion:
Note: This is a personal opinion, it does not reflect YaoiOtaku's official position towards the novel.
I have to get this out of the way first. The intimate scenes in this story are so HOT! After reading more m/m romance books than I can count, erotic elements have no effect on me. Until I read this.
Men in uniforms is one of my kryptonite, so, although I have high hopes for this book, the cover kind of threw me off (yes, I'm a cover snob, so sue me). Fair warning, although the main setting is of two police officers, the story is more about the two of them getting romantically involved and forming a relationship that neither of them was able to put a name on, at least, not at the beginning. There were some action and regular police-related incidents, but they were just a background for the characters rather than the plot of the story.
Usually, I would associate police characters with crime or mystery novels, but this one is just pure romance involving two guys with "men issues" and lack of communication skill. The drama is minimum and quite predictable, but for a story this hot, I'm thankful that it wasn't a PWP. I spotted a couple of spelling errors, but otherwise the rest is all normal.
Overall, I'm pretty much happy with this book. Do not expect inspiring plot or anything earth-changing; this is merely a steamy, gay romance novel with a little pining and satisfaction guaranteed.
What's your opinion on A Rookie Move novel? Please let us know in the comments below.