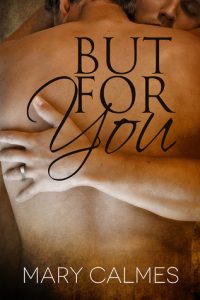 Novel: But For You
Author: Mary Calmes
Genres: Romance, Crime, Suspense
Released: 2012
Part of Book Series: A Matter of Time (Book 6)
Summary: Jory Harcourt is finally living the dream. Being married to US Marshal Sam Kage has changed him—it's settled the tumult of their past and changed Jory from a guy who bails at the first sign of trouble to a man who stays and weathers the storm. He and Sam have two kids, a house in the burbs, and a badass minivan. Jory's days of being an epicenter for disaster are over. Domestic life is good.
Which means it's exactly the right time for a shakeup on the home front. Sam's ex turns up in an unexpected place. A hit man climbs up their balcony at a family reunion. And maybe both of those things have something to do with a witness who disappeared a year ago. Marital bliss just got a kick in the pants, but Jory won't let anyone take his family away from him. Before he knew what it felt like to have a home, he would have run. Not anymore. He knows he and Sam need to handle things together, because that's the only way they're going to make it.
---
Post's Author Opinion:
Note: This is a personal opinion, it does not reflect YaoiOtaku's official position towards the novel.
I don't know if it's an age factor, but I love M/M books that carry a premise on married life. There is something sweet about reading a story of two guys in domestic bliss that makes me go "aww".
Anyway, that's how things are for our MCs in this book – happily married with two young children, keeping a demon cat and a lot of adulting on Jory's behalf. But this time, Sam is the one who lands himself in hot water.
There are a lot of details that I like about this book – Jory's shift from a flighty young man to a nurturing father, a solid, passionate relationship between him and Sam, Jory's penchant for trouble and of course, inevitably helping his now US Marshal husband, Sam, in solving crimes.
I don't have many unflattering things to say – if any – except for the use of "freeze". Do law enforcement officers really use that term? I had a good laugh whenever I came across that particular word in the middle of dramatic scenes.
To sum up, this book really hits the spot for people who are anticipating further development of Sam and Jory's relationship. The plot is also refreshing since now that they're married, the focus is not on the fragility of their love, but more towards working things out together as a strong and devoted couple. Also, trouble always comes across their trail, so there is never a dull moment. Another must-read suggestion from me.
What's your opinion on But For You novel? Please let us know in the comments below.