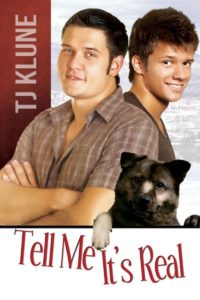 Novel: Tell Me It's Real
Author: T.J. Klune
Genres: Romance, Humor
Released: 15th Feb 2013
Part of Book Series: At First Sight #1
Summary:
Do you believe in love at first sight?
Paul Auster doesn't. Paul doesn't believe in much at all. He's thirty, slightly overweight, and his best features are his acerbic wit and the color commentary he provides as life passes him by. His closest friends are a two-legged dog named Wheels and a quasibipolar drag queen named Helena Handbasket. He works a dead-end job in a soul-sucking cubicle, and if his grandmother's homophobic parrot insults him one more time, Paul is going to wring its stupid neck.
Enter Vince Taylor.
Vince is everything Paul isn't: sexy, confident, and dumber than the proverbial box of rocks. And for some reason, Vince pursues Paul relentlessly. Vince must be messing with him, because there is no way Vince could want someone like Paul.
But when Paul hits Vince with his car—in a completely unintentional if-he-died-it'd-only-be-manslaughter kind of way—he's forced to see Vince in a whole new light. The only thing stopping Paul from believing in Vince is himself—and that is one obstacle Paul can't quite seem to overcome. But when tragedy strikes Vince's family, Paul must put aside any notions he has about himself and stand next to the man who thinks he's perfect the way he is.
---
Post's Author Opinion:
Note: This is a personal opinion, it does not reflect YaoiOtaku's official position towards the novel.
There are stories about damaged people standing up for themselves and people fighting incredible odds and achieve things they need. Life, in truth, is mostly boring and we just try to just pass it through, no biggies. This is one such story. About that fat kid no not fat but bit husky that didn't end up in gym and still going on with life, his own amazing life with awesomeness.
This story has so many inappropriate moments and comments that you end up guffawing. We all love embarrassing grandma when she is not your own. Paul's family is so amazing (and they also intervene) and Paul is the guy who uses movie and comic references and his wit to get through life, what more his Nana's pet parrot is named Johnny Depp, homophobic only towards Paul. Vincent is more perceptive, honest, sweet and can't probably plan any kind of evil plans. Paul might be jealous of Vincent who charms all of Paul's seemingly tough friends. Paul's friend Sandy/Helena will require their separate memoir.
Good laughs and inappropriate moments with love seen in people present in one's life. There are some pretty sweet moments too even if they are played off as humor. Paul is a character that can only be made by T.J. Klune. Lot of things you would wish to screenshot so you can laugh when you need one….Some moments I liked and laughed…
****A face peered over the bed at me, eyes wide, laughter stifled.
"Before you say anything," I told Vince, "just know that I did that on purpose. There's nothing that says, 'Hey, come fuck me' like tripping awkwardly and falling to the floor."
"Your face," he giggled. He giggled!
"Yes."
"It bounced off the bed.***
***"That's right," Nana said. "He's obviously very depressed, and this is a cry for attention. I don't want him to go all emo and cut himself."
"I'm not going to cut myself," I said.
"Paul could never be a cutter," Mom said. "He's too much of a baby when it comes to pain. He'd go the Sylvia Plath route and stick his head in a gas oven like a real lady."
"Bull," Dad said. "He'd take sleeping pills and then choke on his own vomit."
"You're both wrong," Sandy said. "He'd get drunk on gin and fall asleep smoking Virginia Slim 120s and accidentally set the bed on fire."
"For some reason, I don't think the best way to start an intervention is by discussing the best way for the person you are intervening on to kill themselves," I told them. "That person might take it the wrong way."****
What's your opinion on Tell Me It's Real novel? Please let us know in the comments below.