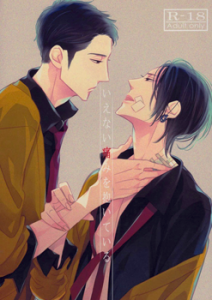 Manga: Ienai Itami o Daite Iru , Ienai Itami wo Daiteiru, An Unspeakable Pain, いえない痛みを抱いている
Author: OGAWA Chise
Genres: Adult, Drama, Psychological, School Life, Slice of Life, Yaoi
Released: 2012
Status in Country of Origin: Oneshot (Complete)
Scanlator: Cocobees
Summary: Shun and his older brother have a little strange relationship…
There is also Koganei from Kusatta Rasen, and the Makino brothers appear in Ayaui Kyouen; both short stories are collected in Rakudai Tsukai to Ouji no Yoru.
Download Ienai Itami o Daite Iru Manga:
Ienai Itami o Daite Iru [ENG]
Read Ienai Itami o Daite Iru Online:
Ienai Itami o Daite Iru [KR]
---
Post's Author Opinion:
Note: This is a personal opinion, it does not reflect YaoiOtaku's official position towards the manga.
OGAWA Chise, the mangaka who likes to go down the dark path regarding BL, published a provocative "series" of short incest stories including this rather gloomy oneshot. The story is about Eita, a high school student who's caught in a destructive spiral of self-harm and strong guilt, triggered by the immoral feelings towards his younger brother Shun. Even though I can normally handle psychological subjects really well, it felt quite painful to read because of the protagonists hopeless situation. However, what I like about this oneshot is how disturbingly realistic it's written. It mercilessly shows the reader how painful it can be to desire something you know is wrong, which i can empathize with up to a certain degree. Sometimes I just fancy something to read that makes me realize how well off I actually am 😀
I'm a huge fan of her art although I personally think this manga isn't the best example to understand how talented this mangaka really is.
In my opinion, out of her "incest series" as i like to call it, this manga is the least disturbing one. So if you're curious about the whole set, I would start with this story. The over-all feeling I had while reading this was depressing. Nonetheless, the fact remains that I love this piece, precisely because of it's raw bitterness (It's twisted, I know… just like this story >.<)
What's your opinion on Ienai Itami o Daite Iru manga? Please let us know in the comments below.