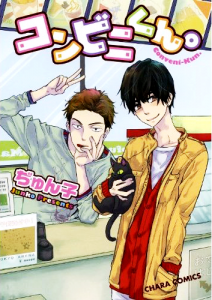 Manga: Konbini-kun, コンビニくん, Conveni-kun, Mr. Mini Mart
Author: Junko
Genres: Drama, Romance, Slice of Life
Released: 2010
Status in Country of Origin: Complete
Scanlator: totomomo
Summary: To break away from his existence as a NEET (Not in Education, Employment, or Training) and staying at home all day, Endou Hiroshi starts work at a convenience store. There he meets an arrogant and rude co-worker, Yamai Kouhei, whom he just can't get along with. However, after seeing a different side of Yamai and getting to know him more, Endou's impression of him starts to change for the better. But, just as things seem to be going fine for Endou and his return to society, his past comes back to trouble him.
Download Konbini-kun Manga:
Konbini-kun
Read Konbini-kun Online:
Konbini-kun
---
Post's Author Opinion:
Note: This is a personal opinion, it does not reflect YaoiOtaku's official position towards the manga.
This is the type of manga that I really like to read. I found that Konbini-kun is a sweet manga, with a pretty good plot. Before reading it I might have guessed there would have been some cringy situations and same ol' character types, but that was not the case. All I felt reading this manga was empathy, sadness and joy.
There were definitely some cliché like moments, but the way this is written nothing screamed cliché to me. I'm actually amazed at how much I liked reading it. This is going 100% in my top favourite mangas. It's just so sweet.
What's your opinion on Konbini-kun manga? Please let us know in the comments below.