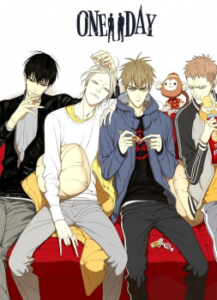 Manga: 19 Days, nineteen days, 19 Tian, 19 дней, 19天, One day
Author: Old Xian, Mosspaca Studio
Genres: Comedy, Drama, School Life, Shounen Ai, Slice of Life
Released: 2014
Status in Country of Origin: Ongoing
Scanlator: 19days-translation, Yaoi-Blcd, idiotae, jianxis, jinsio
Summary: Come along and join the inseparable dream-team Jian Yi & Zhan Zheng Xi together with their friends, on their cute and funny adventures!
Side note: This manhua written by Old Xian that everyone knows under the name "19 Days" is actually called "One Day". It is adapted from the one shot collection 19 days that features various stories  written by diverse authors.
Download 19 Days Manga:
19 Days
Read 19 Days Online:
N/A
---
Post's Author Opinion:
Note: This is a personal opinion, it does not reflect YaoiOtaku's official position towards the manga.
"19 Days" is one of the most addicting Shounen Ai Manhua i've read so far!
Old Xian tells us various stories out of the turbulant life of 4 teenage boys. The introduction of the main characters follows down bellow.
Jian Yi: He grew up as a single child raised by his single-parent mother, knowing nothing about his father (He seems to be a member of the Mafia).
Yi is a cute, charming and outgoing person with a very lively character. He gets along easily with everyone and has a big heart for his close friends. However, the one he cherishes most, is his best friend since nursery, Zhan Zheng Xi. Over the years, Yi developed deep feelings towards Xixi. But to hide the crush he has on his precious friend he continues acting as the carefree airhead he always used to be.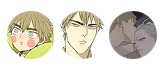 Zhan Zheng Xi: Is especially loyal to friendship and a man who keeps his word. Ever since nursery, he feels protective towards Yi because of his clumsy and helpless nature. Without hesitation he would always be there to defend and support his best friend when help is needed. Although at times, he gets easily annoyed at Jian Yi's nonsense, he always goes along with it in the end.  Xixi is the type who shows his affection and appreciation through actions rather than words.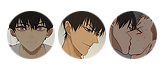 He Tian: Although he has a dark and dangerous aura surrounding him, he still is the most popular out of the four high-schoolers. He loves teasing others, especially Mo Guan Shan whom he has great interest in. Like Zhan Zheng Xi, he has a sense of great loyalty towards the ones he cares for, and has an open ear and a strong shoulder to lean on.
Mo Guan Shan: Is a short-tempered troublemaker who doesn't get along well with others. His father is in prison and his mother struggles to make a living, so both are always short on money, but Mo does his best to support her. Although he acts rough and tough, he also has his good traits that come to light every once in a while.
It is a very entertaining story, filled with lots of good humor and hilarious slapstick moments. Nevertheless it also has it's touching and deep episodes. I think, the message Old Xian wants to deliver through this Manhua, is the importance of true friendship and it's value, and also how complex and fragile the feelings of love can be.
Not only the story but also the art is one of a kind. If you follow the story line from the beginning you will notice all the details that Old Xian keeps in mind over time. I also love the characters expressions and how well the emotions get across. Also, does the manhua have it's hot moments without requiring any smut, so readers of all ages can enjoy this.
honestly, this is one of the very few works in the BL world i can recommend to every single one of you without feeling guilty. If you haven't read it so far, i hope you will catch up on this beautiful, heartwarming Manhua. I am sure you won't regret it!
What's your opinion on 19 Days manga? Please let us know in the comments below.