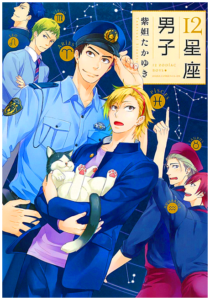 Manga: 12 Zodiac Boys, 12 Seiza Danshi
Author: Sidatsu Takayuki
Genres: Yaoi
Released: 2015
Status in Country of Origin: Completed
Scanlator: Muses Scans
Summary: The Justice Filled Cop "Aries" x "Pisces" the Newbie Delinquent with a Heart of Glass; "Taurus" x "Aquarius"; "Gemini" x "Sagittarius"; "Cancer" x "Capricorn"; "Leo" x "Virgo" and "Scorpio" x "Libra"… The outcome of these six romances is only known by the stars! Catching a delinquent, criticizing a Junior, fighting couples, attack of a meddlesome person and many other different types of couples~ Accepting the personalities of the 12 Zodiacs •
Download 12 Zodiac Boys Manga:
12 Zodiac Boys
Read 12 Zodiac Boys Online:
12 Zodiac Boys
---
Post's Author Opinion:
Note: This is a personal opinion, it does not reflect YaoiOtaku's official position towards the manga.
12 Zodiac Boys is a feel-good, fun-filled, adorable manga. Every chapter keeps you smiling and makes you want to move onto the next just to see what the next set of boys has in store. As a bonus if you are interested in astrology, 12 Zodiac Boys provides you with descriptions of how a seme and uke of the varying zodiac signs act. It's a lot of fun, perfect for those interested in astrology, and the art is just lovely.
What's your opinion on 12 Zodiac Boys manga? Please let us know in the comments below.