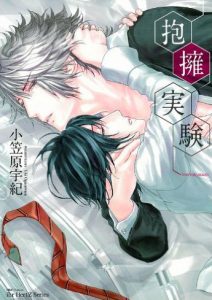 Manga: Houyou Jikken, 抱擁実験

Author: Uki Ogasawara
Genres: Yaoi, Drama
Released: 2011
Status in Country of Origin: 1 Volume (Complete)
Scanlator: Game Over or Continue, Paradise Love, Pink Cherry Blossom Scans
Summary: (From Game Over or Continue)
Takahashi Miya is sick and needs regular check-ups. At university, he comes across Kanou Rei. Rumour has it that he is part of a dangerous club that distributes drugs and organises sex orgies. Is this true? And why does Rei seem to know Miya?
Download Houyou Jikken Manga:
Read Houyou Jikken Online:
---
Post's Author Opinion:
Note: This is a personal opinion, it does not reflect YaoiOtaku's official position towards the manga.
I think what attracted me at first was the cover. The art is so pretty and all throughout the manga I enjoyed it a lot. It's simply beautiul. I couldn't help but just stop and admire the art while reading it.
The characters too, I liked them a lot. They feel like something else compared to most mangas. Although normally I might have some objections, the fact that there was no unnecessary drama and the story seemed to flow naturally, I can't help but feel like they were perfectly written/drawn.
Judging only by the cover, the plot took me by surprise, but that's the best thing that can happen. Even the synopsis doesn't give out much, so you can really enjoy reading and discovering everything you can about this manga.
Overall, everything was great! Beautiful art and good story.
What's your opinion on Houyou Jikken manga? Please let us know in the comments below.