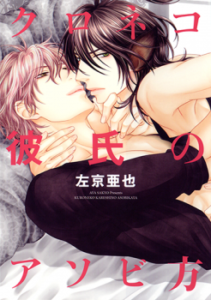 Manga: Kuroneko Kareshi no Asobikata, Kuroneko – Le jeu (French), Kuroneko – Spiel mit mir, Kuroneko Kareshi no Asobi Kata, Kuroneko Kareshi no Asobi-kata, Kuroneko Kareshino Asobikata, Правила игры с черным котом, クロネコ彼氏のアソビ方, 黑貓男友的玩法, 검은 고양이 남친이 응석부리는 법
Author: SAKYOU Aya
Genres: Drama, Fantasy, Romance, Smut, Supernatural, Yaoi
Released: 2012
Status in Country of Origin: 1 Volume (Complete)
Scanlator: Dangerous Pleasure, Girl's Generation Scanlations, Lenocinium Obscurum, Yaoi Is Life
Summary: "0,001% of the earth's population are werecats that can transform into felines…"
Shingo, a little, black housecat belongs to this minority. The lazy guy works as a temp-worker at a architectural company, helping out on the construction of film-sets. While showing off his skills, the cocky tom-cat caught the attention of a troublesome guy. It's no other, than Japans current no.1 male actor, Kakami Keiichi.
One night, after drugging Shingo at a after-work party with silver vine, sly Keiichi (also a werecat of the leopard race) seizes the opportunity to devour his prey. From this moment on, Kakami, who normally doesn't show much interest in others is unusually obsessed over his new "playmate". Despite being reluctant, Shingo, for some reason he can't seem to figure out yet, desperately longs for Keiichi's warmth, which still lingers deep inside him.
Two men who never loved before, experience the strong desire of wanting to monopolize the other for the first time. That is the first part of the popular Kuroneko Kareshi series, showing the beginning of the lovey-dovey relationship between the lascivious black cat and his possessive leopard-boyfriend.
Download Kuroneko Kareshi no Asobikata Manga:
Kuroneko Kareshi no Asobikata
Read Kuroneko Kareshi no Asobikata Online:
Kuroneko Kareshi no Asobikata
---
Post's Author Opinion:
Note: This is a personal opinion, it does not reflect YaoiOtaku's official position towards the manga.
Kuroneko Kareshi no Asobikata is the first manga in the famous werecat universe, written by Sakyou Aya. What makes the story so popular, are without a doubt, first of all the yummy smut scenes 😉  You may want to argue about Keiichi's possessiveness and the cliche plot at some parts, but especially Kakami's stubbornness and aggressive love are features that give the story it's charm.
If you belong to the readers who love fantasy combined with loooads of hot action, romance and cute kitties this might be the manga you've been looking for 😉 As for the plot, i think it is interesting to read it's sequals since it connects a lot of her other works and you get background information on the main story and some important side characters.
What's your opinion on Kuroneko Kareshi no Asobikata manga? Please let us know in the comments below.