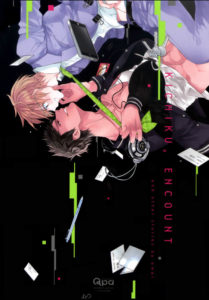 Manga: Kichiku Encount, Brutal Encounter, キチク、エンカウント
Author: Owaru
Genres: Smut, Yaoi
Released: 2014
Status in Country of Origin: 1 Volume (Complete)
Scanlator: Golden Shade, Hoshikuzuu, Yaoi Desire Revolution
Summary: Meet hard-working systems engineer and wage slave Hajime Sato, age 25. He's on his way home after pulling an all-nighter, harsh sunlight flooding the early-morning train car… when he hears the moans of a porn actress (insta-boner!). Wondering what kind of loser virgin's playing porn on the train for all to hear, Hajime looks over to find that the guy seems like a real playboy… To apologize (!?) for his unplugged headphones making Hajime hard, the handsome stranger takes him on a journey to lose his virginity… His anal virginity, that is! This manga contains the following works: "Enter the Beast" and "Please!! A One-Night Stand"
from Renta!
Download Kichiku Encount Manga:
Kichiku Encount
Read Kichiku Encount Online:
Kichiku Encount
---
Post's Author Opinion:
Note: This is a personal opinion, it does not reflect YaoiOtaku's official position towards the manga.
The thing I loved the most about this manga is how the seme became so emotionally attached to the uke when in fact during the start, he was being so bossy towards the protagonist and pulling him along. It's also good to see how two characters who are very much at polar with each other gradually develop mutual feelings.
What's your opinion on Kichiku Encount manga? Please let us know in the comments below.