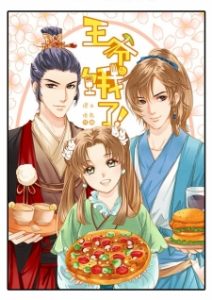 Manga: His Royal Highness is Hungry , 王爷饿了
Author: 璎珞
Genres: Comedy, Historical, Shoujo, Romance, Yaoi
Released: 2016
Status in Country of Origin: N/A
Scanlator: 5o5 Scans, The NoNames
Summary:
My name is Qiu Kui, and I time-traveled! From the wonderful modern world to a poor, ancient village where there's no internet, and even electricity! Worst of all, my parents drowned themselves and my younger sister is physically challenged, and not forgetting the fact that our family is also in debt. I mean, seriously, how can I live under these circumstances! Thank goodness I time-traveled with a bag of groceries and daily necessities… But has anyone time-traveled with items like these? This is ridiculous!
Download His Royal Highness is Hungry Manga:
N/A
Read His Royal Highness is Hungry Manga Online:
His Royal Highness is Hungry
---
Post's Author Opinion:
Note: This is a personal opinion, it does not reflect YaoiOtaku's official position towards the manga.
This one caught me from the start. Armed with vegetables, yeast, several bottles of body mist (I think, not sure though) and the wisdom of modern fast food, the MC crossed into an unknown Era. And despite being thrown into such predicament, he is still positive. And rolled his sleeves to make bun, burger, pizza ect. To feeds his sister.
When he found His Royal Highness, beaten up in his farm, he thought he found a free slaves. Unbeknownst to him, the slave was used to luxury life and never lift a finger for his own food.
Anyway, this manga really cheer me up. Although I can't read Chinese, I found the raw and enjoying all 100 chapters in it. I, myself, can't wait for the translator to release them.
What's your opinion on His Royal Highness is Hungry manga? Please let us know in the comments below.