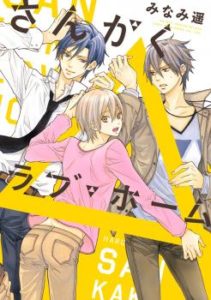 Manga: Sankaku Love Home, さんかくラブ・ホーム
Author: MINAMI Haruka
Genres:Comedy, Romance, Yaoi
Released: 2015
Status in Country of Origin: 1 Volume (Complete)
Scanlator: Muses Scans
Summary:
Clothing designer Yuuki; cool and mature company president whom he met online, Hasegawa; and a frugal university student, Makabe. Hoping to start a communal life together! Both men unconsciously thrown into a home wafting with pheromones!
Older vs Younger x a little devil's love triangle!
A room sharing romcom filled with exciting and passionate happenings.
Download Sankaku Love Home Manga:
Sankaku Love Home
Read Sankaku Love Home Online:
Sankaku Love Home
---
Post's Author Opinion:
Note: This is a personal opinion, it does not reflect YaoiOtaku's official position towards the manga.
This manga is so adorable and cute and sexy~~~~ The main characters, Yuuki (clothing designer, 22), Hasegawa (CEO, 28) and Makabe (student, 19) are living together in a 3 bedroom apartment because the rent is too expensive for one person. Hasegawa and Keigo were originally living together and accepted Yuuki's ad for a roommate because they found him cute~~~ Yuuki turns to be oblivious to the feelings his new roommates start developing for him~~~~ The 3 characters are awesome, even though I have to admit I ship Hasegawa with Makabe the most <3 If you are into threesomes and love triangles, make sure to give Sankaku Love Home a go~~~ <3
What's your opinion on Sankaku Love Home manga? Please let us know in the comments below.