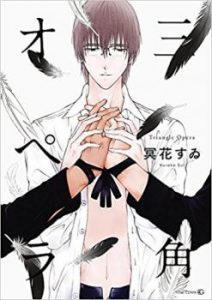 Manga: Sankaku Opera, 三角 オペラ
Author: KURAKA Sui
Genres: Drama, Romance, School Life, Yaoi
Released: 2016
Status in Country of Origin: 1 Volume (Complete)
Scanlator: Fundash Yaoi
Summary: Sadaki Kaoru, an earnest Literature professor who comes from a prestigious academy, hides in his heart the one-sided feelings he has for someone. One day, thanks to drawing the attention of the school troublemaker 'Shou, the informant' his secret is revealed. In exchange for Shou's silence, he'll have no choice but to have sex 'till the point of exhaustion. The day-to-day of being raped by a young student begins!
Download Sankaku Opera Manga:
Sankaku Opera [ENG]
Sankaku Opera [JP]
Read Sankaku Opera Online:
Sankaku Opera [ENG]
---
Post's Author Opinion:
Note: This is a personal opinion, it does not reflect YaoiOtaku's official position towards the manga.
To tell you the truth, I'm a bit torn about this manga. Normally i avoid reading BL stories about love triangles because most of the time i feel unsatisfied by the outcome of how the relationship develops… and this ending is no exception. 'So why did i read it in the first place', you might ask? Well, because i can't look past KURAKA Sui's works 😀
Just like the artists other pieces, this manga has something unsettling. In this case, it is how the twisted relationship between the teacher and his two students started off. Usually, i don't mind subjects like rape and blackmail at all, but the way it has been used here to forcefully turn the teachers feelings towards Shou's (the informant's) feelings put me off a little. Apart from that i enjoyed reading the story. The storie's content is basically about a man who is drawn to the light and has been tempted by the dark, so nothing new. However the perversity of the three mens relation takes the plot to another level.
KURAKA's manga are perfect for those who love it gloomy and don't mind dark topics and unhealthy relationships. This school-life themed story is no exception. As already mentioned, i wasn't completely satisfied with how Sankaku Opera ended… i was a bit frustrated. I guess that's a matter i will always have to struggle with, as soon as the triangle relationship isn't casual. But all in one it was a good read.
What's your opinion on Sankaku Opera manga? Please let us know in the comments below.