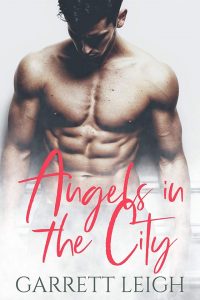 Novel: Angels in the City
Author: Garrett Leigh
Genres: Romance, Holiday
Released: 2020
Part of Book Series: Standalone
Summary: Jonah Gray is rich, successful, and the most eligible bachelor in the city, according to his mother, at least. But the truth is, despite her efforts to pair him off, he's fine on his own. All he needs is a date to the Christmas ball.
Sacha Ivanov is a lone wolf, content in the cycle of long days, late nights, and anonymous hook ups, but when a chance encounter in a broken-down lift brings a gorgeous copper-haired CEO into his life, everything begins to change.
As Christmas fast approaches, a favour for a stranger blooms into something more. He doesn't do second dates or relationships. But for kind-hearted Jonah, his angel in the city, he might just change his mind.
---
Post's Author Opinion:
Note: This is a personal opinion, it does not reflect YaoiOtaku's official position towards the novel.
Suddenly a thought popped up in my head and that thought was I want to read a Garrett Leigh book. It's been a while since I read a book by this author so I looked into my library and this was the only one I have at the moment so I picked it up.
It was the middle of August when I opened the book and when I started reading and saw that the plot is set close to Christmas, I wanted to drop it and read it in the winter, but I instantly liked the characters so much I couldn't bring myself to put it down.
Jonah was great and charming, but Sacha stole the show, I adored him. His dry sense of humour was hilarious, his want of having things laid out clearly was both funny and hot depending on the context, and he was a general joy to have on the page to the point where I missed him when he was nowhere around for more than two and a half pages. It was instant love.
The story progressed so nicely, it had none of the typical tropes in a fake-boyfriend or friends-to-lovers type of story and that made me very happy. If I think about it, I might have not even noticed one common trope or at least not be bothered by them at all given how taken with the characters I was. Beside the two main characters, I liked Jonah and Sacha's co-workers too, as well as their families and friends (especially Eleanor, and maybe sometimes I didn't like Lilly all that much, but she's good).
Angels in the City is a great read, but maybe read it in December for a better immersion in the story. If I have to pick one thing I was not thrilled about, is the length of the book. This book is one of those I would have loved to be a bit longer, I want more of Sacha's humour.
What's your opinion on Angels in the City novel? Please let us know in the comments below.