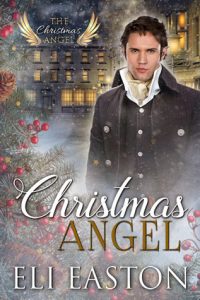 Novel: Christmas Angel
Author: Eli Easton
Genres: Romance
Released: 2018
Part of Book Series: The Christmas Angel #1
Summary: When John Trent, a dedicated member of the new Bow Street Runners, finds an exquisite carved angel floating in the Thames, he can't stop thinking about it. He tracks down its creator, a sad and quiet young sculptor. But neither the angel nor the sculptor is done with John just yet. The blasted angel refuses to leave him be, behaving not at all like an inanimate object should.
Alec Allston is resigned to the fact that his love will ever be a river that flows out and never flows in. All he wanted to do was create a special gift so that a small part of himself could be with his unattainable and noble beloved, always. But when the gift keeps showing back up at his shop in the hands of a windblown and rugged thief-taker, Alec will need to reconsider his conviction that love is destined to remain an aethereal ideal.
---
Post's Author Opinion:
Note: This is a personal opinion, it does not reflect YaoiOtaku's official position towards the novel.
Right off, after reading this short, but so very sweet story, I am more than interested in what else Eli Easton put out there. I loved everything about it. Christmas Angel is a perfect December story, complete with the holiday cheer and likeable, witty characters.
I liked Mr. Trent so much! He is anything Alec could have ever dreamed of and even more. He's kind, funny, and, oh, so subtle. The man has a real talent. Alec is a lonely lad who really needs to anchor on someone, and that someone can be no one but Mr. John Trent. And what a lovely pair they make!
What I also liked about Christmas Angel is that it's not over the top. You get a nice story with no unnecessary drama, and bonus points, it's true to the era. It is obvious the author properly researched the topic and did a very good job. I'm always amazed when contemporary authors write historically accurate, giving the reader the full experience.
The plot flowed smoothly, naturally, and did I mention I really liked John? I enjoyed John's approach, and how he carefully thought on what to do next. He's the type of character you dream of, he's calm, calculated, and clever, qualities that proved to be more than useful.
I liked the rest of the characters as well, they are all so warm and welcoming, even Dante. They are a joyous bunch and a wonderful company. Eli Easton crafted the characters so beautifully and wrapped them in a heart-warming story. Perfect read for the holiday season.
What's your opinion on The Christmas Angel novel? Please let us know in the comments below.