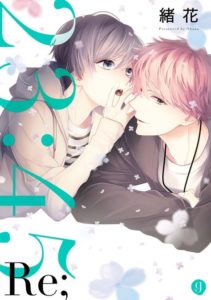 Manga: 23:45 Re:
Author: Ohana
Genres: Drama, Romance, Supernatural, Yaoi
Released: 2016
Status in Country of Origin: 1 Volume (Complete)
Scanlator: Pink Cherry Blossom Scans
Summary: This is a sequel to 23:45
Download 23:45 Re: Manga:
23:45 Re:
Read 23:45 Re: Online:
N/A
Post's Author Opinion:
Note: This is a personal opinion, it does not reflect YaoiOtaku's official position towards the manga.
This is the sequel to 23:45, it is also the sequel that was needed to give 23:45 the finished and more satisfied feeling that was missing in the first manga. While satisfying there is quite a bit of heartache to get to that point, as the story continues pretty much where 23:45 finished.
The only flaw I found was how jumbled the chapters seemed to be. I'm not really sure what to call it other then that, since the story just didn't seem to flow quite as nicely as the prequel.
If you liked the first story but felt like you needed more, this will definitely complete the story, as well as give you the completed feeling that was missing in the first story.
What's your opinion on 23:45 Re: manga? Please let us know in the comments below.