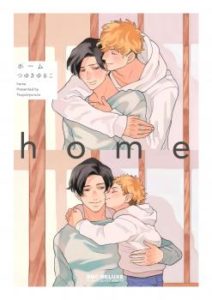 Manga: Home , ホーム
Author: TSUYUKI Yuruko
Genres: Drama, Romance, Yaoi
Released: 2018
Status in Country of Origin: 1 Volume (Complete)
Scanlator: Closeted Fujoshis
Summary: Subaru, a elementary school boy who spends most of his time without his parents because they are busy with work, is exploring the village he recently moved to. There he meets a writer named Tatsumi Terao, a lonely man who suffers from chronic sleep deprivation. After getting used to the lively days he spent together with his much younger friend, Subaru passes down the sad information to Tatsumi that he and his parents are going to move overseas. Unwilling to leave the loners side, Subaru makes a promise to come back to this house as soon as he graduates collage.
10 years passed by… Tatsumi Terao is still unable to forget about the young boy he met by the sudden encounter. He decides to write a book about their tragic love story and send a copy of the unpublished work to Subaru with a note saying, that he should read the story first before making the decision of coming back to Japan. What are Subaru's thoughts? Will their love story find a happy ending?
Download Home Manga:
Home
Read Home Online:
Home
---
Post's Author Opinion:
Note: This is a personal opinion, it does not reflect YaoiOtaku's official position towards the manga.
Home is a bitter-sweet love story filled with pages of beautiful art. Tragedy and fluff are well balanced (but i would keep tissues in reach, just in case… 😉 ). All in one it is a heartwarming manga with a unique setting and a couple you want to cheer on until the end, while fighting side by side for their happiness.
What's your opinion on Home manga? Please let us know in the comments below.