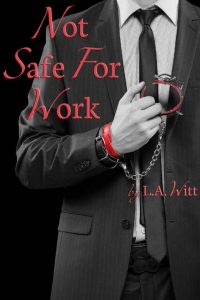 Novel: Not Safe For Work
Author: L. A. Witt
Genres: BDSM, Romance
Released: 2015
Part of Book Series: Standalone
Summary: Bored senseless in a meeting, Jon McNeill amuses himself with a kinky dating app on his phone. Then the app matches him with another user… who's six feet away. Suddenly Jon finds himself on the same page as someone who's way above his pay grade: millionaire property developer Rick Pierce.
The app isn't kidding, either. They're a perfect match. Jon's a Dom, Rick's a sub, and they both love bondage. Both guys are well into their forties, know their way around the bedroom, and definitely appreciate a good suit. And the best part? They're a match outside the bedroom too.
But office relationships aren't easy to keep a secret. When the truth comes out, Jon is certain he's about to get fired. Instead, he finds himself tangled up in a much bigger mess.
Contains two men who've only dreamed of this kind of sex, literal and figurative sex machines, blindfolds, a sub being punished during a business meeting, enough rope to tangle up a millionaire, and a Golden Girls marathon.
---
Post's Author Opinion:
Note: This is a personal opinion, it does not reflect YaoiOtaku's official position towards the novel.
When I started reading this book I thought I would love it, but the more I read the more I didn't feel as strongly about it. It was still good, but as I advanced on the story, it lost its spark.
First, things that I really liked.
The first few chapters were so funny and I liked Jon. The main characters are over 40 and I loved it. I also loved how they weren't what you think of when you think of 40 year old characters, they weren't grey and grumpy and super grown-up. They were regular people, they were capable of feeling things the same a teenager could. And speaking of, Jon and Rick's first 'date' was so cute, but also hot. I had a lot of fun reading that part, L. A. Witt managed to put on paper exactly what goes on on a first date: the emotions, the uncertainty, the flow of the conversation. I haven't been on a first date since I don't know when, but what went on in there is exactly it.
I liked how their relationship progressed. They clicked instantly and the way it was described felt so natural. They were still two adults and they acted accordingly which, again, I liked very much. Well, overall I liked a lot reading about actual adults acting like adults.
I also liked Jon's workplace vibe, that is an environment I would like working in. Well, without the crazy, unrealistic demands. Also, I liked how you could actually see how open and casual the team were with each other, but at the same time didn't neglect their job. While making fun of each other their projects were being worked on with great attention. And I liked that they were genuinely friends.
Before I go on with the things I didn't like, I have to mention one that's in-between. I liked how there was a distinction between the Dom persona and the regular person, actual employee. It was a treat because I don't think I ever read a book where the Dom isn't always just a bit Dom, no matter the setting, but there were instances where I wished the Dom persona will get out. Yes, it did happen a few times, but it was quite tame. Here I'm leaning more towards the liked area than not liked because I really did enjoy this bedroom versus out in the open persona.
Second, things I didn't really like.
The book kept the same tone from start to finish, but also took a dive. The tone is not a bad thing, but I needed a few more ups and downs. I don't know how to explain this so I hope what I'm going to say next will shed some light. And that's about the repetitions. There were a few ideas, idioms, and words that were repeated over and over again. They made sense, but you can use one of those so many times before they lose their value. After using one of them five times, the sixth time you can't get the same impact and that's a shame because they had great potential. Some were used too soon, others were overused.
Reading the first few chapters there was something that kind of pulled me out of story. I was expecting there to be some cracking bones and sore muscles given that the characters were over 40, but when it finally happened, bones were cracking and joints hurt what felt like every paragraph. I was expecting that mention, it wouldn't have been right without it, but when it happened I felt attacked.
I'm at a loss what to rate this book. The BDSM part of it was definitely on the lighter side and while I would have liked things to be more intense, both characters did say they enjoy vanilla. Throughout the book it was obvious the D/s dynamic was not actually a life style for them, but a way to spice things up, while at the same time Jon's supposed experience didn't quite come through. Slightly disappointing, but I was warned about the vanilla so I can't really complain. That being said, I think a two stars rating is fit for the overall feeling I got from the story.
What's your opinion on Not Safe For Work novel? Please let us know in the comments below.