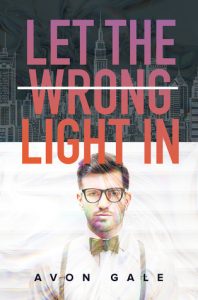 Novel: Let The Wrong Light In
Author: Avon Gale
Genres: BDSM, Romance
Released: 2015
Part of Book Series: Standalone
Summary: Avery Hextall, a junior architect at a prestigious firm, is thrilled when his design is chosen for a new performing-arts center—even if it means working closely with his insufferably uptight project manager, Malin Lacroix. When a chance encounter in the boss's office proves that Lacroix is anything but cold, Avery is determined to learn more about the real man beneath the aloof veneer.
Despite their growing attraction and their increasingly kinky encounters, the enigmatic Malin remains as emotionally distant as ever. Worse, Avery's friends are convinced Malin thinks of Avery as a dirty secret and nothing more—a secret that might destroy both of their careers.
But the real secret is a single moment in time that haunts Malin and keeps him from committing to the life he wants with Avery. In order to move on, Avery must help Malin come to terms with the tragedy in his past before they can work on building a future together.
---
Post's Author Opinion:
Note: This is a personal opinion, it does not reflect YaoiOtaku's official position towards the novel.
It was odd reading something written in present tense, but it was not bad, I would read something like that again.
I mostly kept on reading this because of the windows, if I am being completely honest here. I like huge ass windows and this novel had plenty of those. It was funny too at times, I liked the interactions between Avery and the rest of the characters and, yeah, he's pretty likeable. Glad he learned some things too. Good thing Avery has really good friends, but for who don't, repeat after me: always, always use safe words when playing.
The novel felt weirdly rushed and not at the same time. The action definitely focused on Avery and Malin, and while that's obviously not an issue, in doing so some parts were rushed and brushed over. I would have liked to read what actually went on every time, in every interaction regardless of the characters involved, especially since I liked pretty much everyone. The ending followed the same pattern and so I don't feel satisfied. It was a good ending, but not presented in a satisfying way.
I'm gathering this is one of the first novels published by Avon Gale, and having that in mind, Let the Wrong Light In is a darn good read. I am having hopes for this author and I am definitely interested in what else may come from them, but I am keeping my expectations low.
What's your opinion on Let The Wrong Light In novel? Please let us know in the comments below.