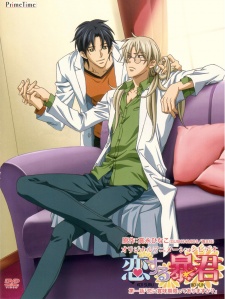 Anime: Koisuru Boukun OVA
Author: Takanaga Hinako
Alt. Names: Koi Suru Boukun; Koisuru Bokun; The Tyrant Falls In Love
Genres: Comedy, Romance, Yaoi
Released: 2010
Status:  2 Episodes (Finished Airing)
Summary:
Morinaga is in love with his senpai, Souichi, who is an aggressive homophobe. One night, an incident with an aphrodisiac drug occurs and the two men end up having sex. Will this night be the end of Morinaga, or will it change Souichi and bring them together?
Download Koisuru Boukun Anime:
Koisuru Boukun OVA
Watch Koisuru Boukun Online:
Koisuru Boukun OVA
Post's Author Opinion:
Note: This is a personal opinion, it does not reflect YaoiOtaku's official position towards the anime.
Koisuru Boukun OVA is an entertaining anime, the artwork is pleasing and close to the manga. The voice acting is quite good, and the animation is nice. Both the characters are likeable and they have their own cute traits. Because the anime is only two episodes it's more like a sample of what the manga is, but it follows the manga rather well. It does deal with non-consensual sex, so if that bothers you be warned. Otherwise give it a try and tell us what you think.
What's your opinion on Koisuru Boukun OVA anime? Please let us know in the comments below.