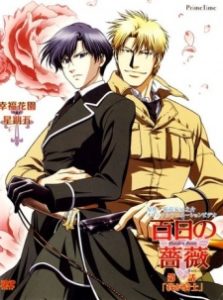 Anime: Hyakujitsu no Bara
Duration: 24 min./ episode
Alt. Names: Maiden Rose; 百日の薔薇
Genres: Drama, History, War, Yaoi
Released: 2009
Status: 2 Episodes (Finished Airing)
Summary:
Two soldiers from warring countries are bound by a pledge as master and servant. Taki Reizen is a Commander of sublime beauty, shouldering the fate of his nation. Called "Mad Dog" because of his rough temperament, Klaus has sworn his loyalty to him as a knight. Despite this, those around them are cold and disapproving, full of various misgivings. For all their genuine feelings, what will come of love made cruel by the violence of war?
Download Hyakujitsu no Bara Anime:
Hyakujitsu no Bara
Watch Hyakujitsu no Bara Online:
Hyakujitsu no Bara
---
Post's Author Opinion:
Note: This is a personal opinion, it does not reflect YaoiOtaku's official position towards the anime.
Hyakujitsu no Bara is a very good OVA with a nice graphics, music and characters. The art style is not exactly to my taste (especially how Klaus is drawn `_`), but the animation is done beautifully~~~ The action happens around WWII and depicts the relationship between a Japanese commander named Taki and a German officer, Klaus. The story is very beautiful, the plot is complex, there is a reason behind the main characters' romance as well, and they have a very nice chemistry. Their relationship however is forceful and slightly abusive in the beginning. I'd have loved if it was made in an anime, as this story deserved several episodes. With it having just 2 episodes, the only real character development we get is if we compare the characters in the present to them in the past. And I can't forget to mention, the chibis at the end are just too adorable~~~~~
What's your opinion on Hyakujitsu no Bara anime? Please let us know in the comments below.