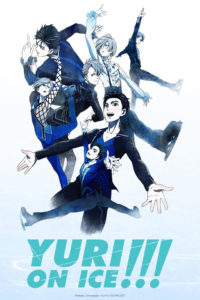 Anime: Yuri!!! On Ice
Author: Mitsuro Kubo
Alt. Names: ユーリ!!! on ICE
Genres: Sports, Shounen-Ai
Released: 2016
Status: Complete
Summary: Reeling from his crushing defeat at the Grand Prix Finale, Yuuri Katsuki, once Japan's most promising figure skater, returns to his family home to assess his options for the future. At age 23, Yuuri's window for success in skating is closing rapidly, and his love of pork cutlets and aptitude for gaining weight are not helping either.
However, Yuuri finds himself in the spotlight when a video of him performing a routine previously executed by five-time world champion, Victor Nikiforov, suddenly goes viral. In fact, Victor himself abruptly appears at Yuuri's house and offers to be his mentor. As one of his biggest fans, Yuuri eagerly accepts, kicking off his journey to make it back onto the world stage. But the competition is fierce, as the rising star from Russia, Yuri Plisetsky, is relentlessly determined to defeat Yuuri and win back Victor's tutelage.
Download Yuri!!! On Ice Anime:
Yuri!!! On Ice
Watch Yuri!!! On Ice Online:
N/A
---
Post's Author Opinion:
Note: This is a personal opinion, it does not reflect YaoiOtaku's official position towards the anime.
Yuri!!! On Ice is an anime that needs no introduction. This anime delivers so much in only tweleve episodes. Ice skating is a fairly unique sport and the experience of watching it through anime is just as unique, yet it stays accurate to the way the sport is played. Yuri!!! On Ice takes into account that not many people probably know how ice skating competitions work and takes the time to explain them in fun and quick ways. Watching the programs and competitors is incredibly fun as well, however there's more to this show than just the sports. The connection between the all of the characters is so beautiful and well done. The side characters can hardly be called that because so much work went into their personalities. When they're on the screen they can easily come to the forefront and be the center of attention. Watching the main skaters, Yuri and Victor, form their growing relationship is nothing short of emotional. While some people don't classify this anime as shonen-ai, others do. While it can be up to perception it is hard to deny how deeply Yuri and Victor care for each other. The journey they take is lovely, funny, dramatic, and leaves you feeling warm and inspired.
What's your opinion on Yuri!!! On Ice anime? Please let us know in the comments below.