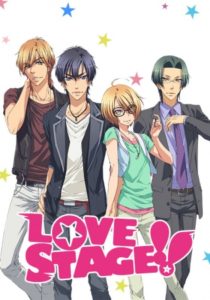 Anime: Love Stage!!
Author: Eiki Eiki
Alt. Names: N/A
Genres: Shounen-ai, Comedy
Released: 2014
Status: Complete
Summary: Izumi was born in a family of celebrities. His father is a singer, his mother an artist, his older brother the lead vocalist for the popular band Crashers. Izumi himself, however, is just a nerdy college student. He loves the manga "Magical Girl Lala Lulu" and dreams of becoming a manga writer himself. One day he is roped into filming a commercial where he wears a dress. Another actor on the set, Ryoma Ichijo, mistakes him for a woman and falls in love at first sight. As it turns out, though, they met ten years in the past. And Ryoma feelings don't change when he finds out Izumi is a boy.
Download Love Stage!! Anime:
Love Stage!!
Watch Love Stage!! Online:
Love Stage!!
---
Post Author's Opinion:
Note: This is a personal opinion, it does not reflect YaoiOtaku's official position towards the anime.
Perhaps there's no such things as a perfect yaoi/shounen-ai anime, or perhaps my opinions of this anime are just a bit skewed, but Love Stage!! is a ten out of ten stars. It's hard to find anything wrong with it. The protagonists are flawed, but lovable. Ryouma is a caring guy who can't stop loving Izumi no matter what. Izumi is annoying and a dork, but he's precious, wants to follow his dreams, and he soon finds himself falling for Ryouma regardless of how much he doesn't want to. The anime is funny and adorable, with the perfect amount of drama to keep you on the edge of your seat. It addresses many things that most shounen-ai/yaoi anime don't. The side-characters make you feel and you adore them just as much as you adore the main pairing. They even make fun of anime within the anime. It's hard to find an anime that packs so much into only ten episodes, but Love Stage!! managed. The roller coaster of emotions you go through while watching like happiness, sadness, anger, frustration, delight, amusement… All of it comes together to create the perfect experience.
What's your opinion on Love Stage!! anime? Please let us know in the comments below.