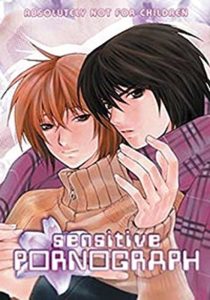 Anime: Sensitive Pornograph
Author: Sakura Ashika
Alt. Names: N/A
Genres: Yaoi
Released: 2004
Status: Complete
Summary: For four young men, love and intimacy are in the air, even though they may not be aware of it. Sensitive Pornograph holds within it two tales of sexual romance for two different couples of men. The first is a tale between two manga artists, Seiji Yamada and Sono Hanasaki. Both are familiar with each other's work, though upon meeting each other, Seiji is shocked to find out that Sono is actually a man, ten years his senior. Love quickly blossoms between the two, but will soon be tested when Seiji begins to hear rumors about Sono's past sexual exploits.
In the second tale, Koji Ueno is a part-time pet sitter, hired to take care of a rabbit named Aki for a new client. To Koji's complete surprise though, not only is there no rabbit in the house, but the only thing in the apartment is a bound and gagged man in the closet who says that he is Aki. More troubling than this is that Aki informs Koji that they are both in danger of upsetting the client, and the only way for Koji to get out safely is for them to make love together.
Two stories, four men, and the one emotion of love that unites them all in the new twists their lives have taken.
Download Sensitive Pornograph Anime:
Sensitive Pornograph
Watch Sensitive Pornograph Online:
Sensitive Pornograph
---
Post Author's Opinion:
Note: This is a personal opinion, it does not reflect YaoiOtaku's official position towards the anime.
If you've read the Sensitive Pornograph manga, then you'll recognize the two stores in this OVA. The first one is the title story about two mangakas and the second is about the "bunny" inside of a man's apartment. Being familiar with these stories makes seeing them animated even more enjoyable. The sex scenes are delicious, while the stories are cute and fun. (The "bunny" story can be debated as cute, but it has a happy ending!) It would have been nice if they animated at least a few of the other stories from the manga, but it can't helped. What we're given is adorable and fun and keeps you satisfied. While I'd recommend the manga over the OVA I still think everyone should see this sweet, quick OVA.
What's your opinion on Sensitive Pornograph anime? Please let us know in the comments below.