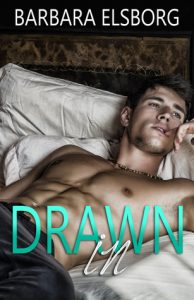 Novel: Drawn In
Author: Barbara Elsborg
Genres: Crime, Abuse, Romance
Released: 2016
Part of Book Series: Standalone
Summary: Undercover police officer Kell has crossed the line. He's become trapped in an abusive relationship with his violent thug of a boss and sees no way back without wrecking months of work. The hope of ever being involved with someone who respects him seems a distant dream.
Private investigator Gethin is depressed that the bulk of his work involves following unfaithful partners. He knows just what it's like to be cheated on. Even worse, his relationship with his ex is complicated and Gethin can see no way of breaking free of a guy who so desperately needs him.
A chance encounter brings Kell and Gethin together, entwining their lives with secrets and danger. They both have reasons to keep things casual. But there are consequences to zipless fucks. Not only do they have to survive people trying to kill them, they need to trust each other and keep their wits about them, while ensuring their hearts stay intact.
---
Post's Author Opinion:
Note: This is a personal opinion, it does not reflect YaoiOtaku's official position towards the novel.
The premise of the novel is very interesting. Though I have to admit that before reading it I only went for two things: (1) it is a Barbara Elsborg novel and I loved the first one I read by the same author (The Story of Us) and (2) I accidentally saw 'cop' in the synopsis. That's already two very good signs that I was going to love the novel. And I did!
(I mentioned this before, but for the sake of it I'm saying it again; I usually don't read the synopsis and reviews of books before reading them.)
From the first pages I was intrigued. I was also very worried for the main characters and sad, pained even. I hadn't even got to know them yet, and still, I was so worried for Kell and Gethin. The angst levels went very high from the first chapters. Kell and Gethin were both in very difficult situations and it was hard to see how things could get better. The plot was so interesting and it really made me feel things. Concern for the most part.
But I got really lucky too. The novel exceeded all my expectations. I only had The Story of Us as an idea of what to expect so I expected something less steamy. Well, things got hot and heavy fast and often and I loved it. A casual relationship sounded great for both Kell and Gethin, but things don't always turn out as planned.
There's another character I have to mention and that is Angel. He was so great, a spark of joy every time he appeared on the page, no matter the context. He was just so fun, he made me laugh or at least smile on every occasion.
There were obviously characters I didn't like as well, but let's not talk about those. They were awful and some deserved really bad things to happen to them. On that front I declare myself satisfied for the most part.
I loved the novel, it surely drew me in (ha!) and I really, really wanted it to be longer. I loved the main characters, they are both so human and have a fun sense of humour. I really liked reading their conversations.
I am so ready to dive right into the next Barbara Elsborg novel.
What's your opinion on Drawn In novel? Please let us know in the comments below.