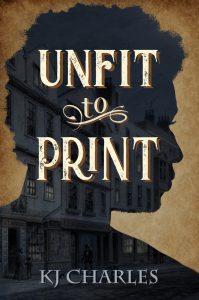 Novel: Unfit to Print
Author: K.J. Charles
Genres: Historical, Romance, Mystery
Released: 2018
Part of Book Series: Standalone
Summary: When crusading lawyer Vikram Pandey sets out in search of a missing youth, his investigations take him to Holywell Street, London's most notorious address. He expects to find a disgraceful array of sordid bookshops. He doesn't expect one of them to be run by the long-lost friend whose disappearance and presumed death he's been mourning for thirteen years.
Gil Lawless became a Holywell Street bookseller for his own reasons, and he's damned if he's going to apologise or listen to moralising from anyone. Not even Vikram; not even if the once-beloved boy has grown into a man who makes his mouth water.
Now the upright lawyer and the illicit bookseller need to work together to track down the missing youth. And on the way, they may even learn if there's more than just memory and old affection binding them together…
---
Post's Author Opinion:
Note: This is a personal opinion, it does not reflect YaoiOtaku's official position towards the novel.
Right from the start I liked Gil and Vikram a lot. Maybe I liked Vikram a little more because I may or may not have a thing for good-guy-lawyers, but who knows, really. Their story was so nice. Sad too, but the sad part was mostly off page so I got to enjoy them getting together and chatting and basically getting reacquainted with each other. And, of course, I liked Sa- erm, the cat named Satan, a quite strong willed cat if I may say so.
The plot was very interesting, I don't recall reading something similar and I would have been inclined to say it was all (or most of it) an invention until I read about the research K.J. Charles did (extra points there, I always love good research) and I must say… I'm not surprised, a sort of black market for prohibited books and pictures is not something I am surprised to know people did back in the day.
This short novella reads very easy, the story flows smoothly, and it is highly enjoyable. Unfit to Print is one of those books I would categorise as perfect for an evening in, all cosy, paired with a cup of your preferred drink.
What's your opinion on Unfit to Print novel? Please let us know in the comments below.