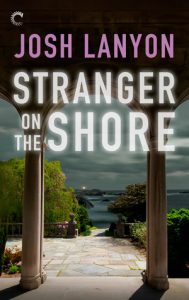 Novel: Stranger On The Shore
Author: Josh Lanyon
Genres: Mystery, Romance
Released: 2014
Part of Book Series: Standalone
Summary: Twenty years ago young Brian Arlington, heir to Arlington fortune, was kidnapped. Though the ransom was paid, the boy was never seen again and is presumed dead. Pierce Mather, the family lawyer, now administers and controls the Arlington billions. He's none too happy, and more than a little suspicious, when investigative journalist Griffin Hadley shows up to write about the decades-old mystery. Griff shrugs off the coldly handsome Pierce's objections, but it might not be so easy to shrug off the objections of someone willing to do anything to keep the past buried.
---
Post's Author Opinion:
Note: This is a personal opinion, it does not reflect YaoiOtaku's official position towards the novel.
It is so easy to be sucked into mystery novels. The itch to be the first to solve the puzzles is almost irresistible and Josh Lanyon's books are full of them.
Unlike most mysteries, Stranger On The Shore didn't start with a murder. It is a story about the missing of a young child and how lives are ruined because of arrogance and greed. Immediately, I was swept away with the longing of a family towards a child that had been missing for two decades, a stranger who is obsessed with writing a book regarding the case and the family advisor who is also a close family friend that would go above and beyond to stop that from happening.
It wasn't the mystery that made me fall in love with this book, but the emotions behind the characters especially that of Brian Arlington and Griffin Hadley. I felt bitter regret and wondered how different life would be for Brian if everyone that mattered had said something sooner. Then I felt angry on Griffin's behalf because despite him being the outsider who depended on the Arlington's favours, he was the one most taken advantage of. The pining and desire for acceptance really drew me into this story.
The romance on the other hand could do a little more work. I liked the enemy-to-lovers trope between Griffin and Pierce, but I would prefer to see it develop a little bit more. It needed to be cultivated for me to really feel the strength of their feelings.
On the whole, Stranger On The Shore will engross you with the plot and the intensity of the characters. Out of all the author's books that I've read, this one is my favourite. If you like a light mystery, this book is not to be missed.
What's your opinion on Stranger On The Shore novel? Please let us know in the comments below.