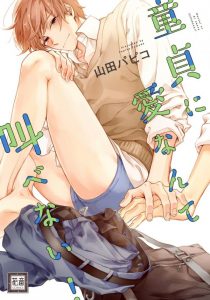 Manga: 童貞に愛なんて叫べない!, Doutei ni Ai nante Sakebenai!, How Can I Find Love When I've Still Got My V-Card!?,
Author: Papiko Yamada
Genres: School Life, Drama, Romance
Released: 2016
Status in Country of Origin: Complete
Scanlator: Fujoshi Bitches
Summary: "Wanna be friends with benefits?" Two guys with the same last name were labelled by their classmates as the "cool one" and the "nerd." After discovering they share the same secret, the innocent Kazunari and experienced Hayato turn to each other for understanding and friendship. But, one day, Hayato asks Kazunari a startling question… Kazunari wants to prioritize friendship over desire, but Hayato's struggling with growing feelings of attraction he's been trying to hide… and one of them will have to give in…! This is a story about two high-school boys exploring their sexuality!!
Download Doutei ni Ai nante Sakebenai! Manga:
n/a
Read Doutei ni Ai nante Sakebenai! Online:
n/a
---
Post's Author Opinion:
Note: This is a personal opinion, it does not reflect YaoiOtaku's official position towards the manga.
I read this manga before, but at the time it was not on MAL so this is my second read. Although the cover looked familiar, the title did not, and as I read the first pages I realised I did read it before. Since I remembered liking it, I went ahead and read it again.
The plot is interesting. I forgot about a few things since I read it the first time so I was taken by surprise. Re-read was a success from that point of view, it made me very curious about what was going to happen.
I liked the art a lot, but that's hardly unexpected coming from Papiko Yamada. The manga is just so nice to look at and the characters are so pretty. As for their personalities, I liked both Kazunari and Hayato. For once I got a couple of high school students who weren't way over the top and I'm very pleased about that.
Doutei ni Ai nante Sakebenai! really is about two boys trying to figure out their feelings and learn more about their sexuality, and it is wrapped up in this really nice, soft bundle.
I enjoyed the manga a lot, but there is a reason why I didn't give it top ratings. At this point it's impossible finding a manga where some clichés don't sneak in and that is completely fine, I don't mind it, but the way they are written makes a huge difference. That being said, even if I didn't like this particular thing here (that I'm not going to name) and I found it to be too sudden, it was slightly better than in most mangas thanks to the context. I don't appreciate having to put my own spin on it since it's not obvious in the manga, though.
That being said, most yaoi readers will really enjoy this. Whatever it lacks, it makes up for with the plot and the art.
What's your opinion on Doutei ni Ai nante Sakebenai! manga? Please let us know in the comments below.