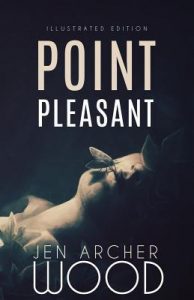 Novel: Point Pleasant
Author: Jen Archer Wood
Genres: Horror, Mystery, Paranormal, Romance, Supernatural, Coming Home
Released: 2013
Part of Book Series: Standalone
Summary: Ben Wisehart grew up in the idyllic town of Point Pleasant, West Virginia. An early encounter with the supernatural shaped his worldview and served as the catalyst for his career as a bestselling horror writer.
Thirteen years after abandoning his home, Ben returns to the town to investigate the apparent reemergence of the terrifying creature responsible for his childhood nightmares.
In Point Pleasant, Ben is confronted not only by the town's resident monster, the Mothman, but also by his former best friend, Sheriff Nicholas Nolan.
Together, Ben and Nicholas uncover the mystery of the monster in the woods and discover that the ghosts that haunt us are sometimes made of flesh and blood.
And sometimes, they lead us home.
Point Pleasant is an illustrated novel and features over a dozen works of original art by Svetlana Fictionalfriend.
---
Post's Author Opinion
:
Note: This is a personal opinion, it does not reflect YaoiOtaku's official position towards the novel.
The first time I heard about the Mothman was from a comic strip I saw online sometime earlier this year. When I saw this book, the summary caught my eye and it piqued my interest to find out about the author's take on the folklore.
I had to be honest, I almost gave up on this book a couple of times because of two things; one, it was a lengthy book and two, the development was rather slow in the beginning. Thankfully, the story got better once Ben Wiseheart went back to his hometown. Unfortunately for him, he didn't get off on a good start in Point Pleasant. Ben had to face his father's disapproval of his career, the town people who were now strangers and the monsters from his past – both literally and figuratively.
It seemed to me that the author had done a thorough research on the topic and she wanted to include as much details as possible which resulted in a long winding story. I could do without the first four chapters, some minor characters and a few forgettable scenes.
To be fair, the plot was riveting enough to keep me going until the end. I was both frustrated and excited with the hot and cold relationship between Ben and Sheriff Nicholas Nolan. Being apart for thirteen years had given them the opportunity to learn new things about one another, but the memory they shared while growing up strengthened a bond that was much needed in time of crises. The mystery surrounding the Mothman was perplexing and filled with suspense that definitely gave me goosebumps. I liked the unexpected twist the author had given to the story and consequently, presenting an ending that was not too shabby.
If you can tolerate a long book, ominous creatures, a sheriff who likes to throw his boyfriend into jail "for his own safety" and dealing with the town idiot, I'd say do give this book a chance. The one I read was the illustrated edition, so I got to enjoy some good art as well.
What's your opinion on Point Pleasant novel? Please let us know in the comments below.
You need to login or register to bookmark/favorite this content.