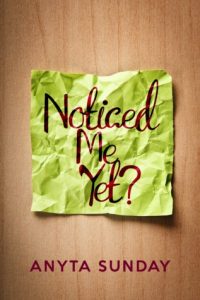 Novel: Notice Me Yet?
Author: Anyta Sunday
Genres: Romance, College, Short Story
Released: 2013
Part of Book Series: Standalone
Summary: Jacob's in a pickle. He needs a new flatmate, and soon. And what better way to advertise than on the noticeboards around campus?
Trouble is, someone is taking down his ads.
Jacob writes to the offending thief, little expecting to be answered—and soon he finds himself in a deeper pickle: who is this Mr. X that he keeps writing to?
And how can Jacob be falling for him?
---
Post's Author Opinion:
Note: This is a personal opinion, it does not reflect YaoiOtaku's official position towards the novel.
This was seriously so good! The plot is intriguing and I liked the whole mystery around Mr. X. Trying to figure out who he was was so fun. I liked the exchange between Mr. X and Jacob, the notes were so nice and I could almost feel their anxiety at some point.
I didn't figure out who Mr. X was, but I knew from the start who I didn't want him to be. Jacob deserved someone who really knows how to appreciate him. And he was right, if you need to ask if it's love, there's your answer.
Overall, fun little story and I am so glad to have read it. Despite it being this short I didn't feel like it was too little or like it was rushed. It really is a nice read.
What's your opinion on Notice Me Yet? novel? Please let us know in the comments below.