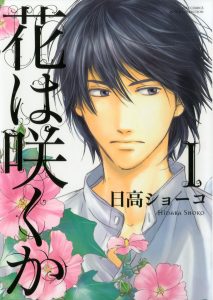 Manga: 花は咲くか, Does the Flower Bloom?, Does the Flower Blossom?
Author: Shoko Hidaka
Genres: Drama, Romance, Yaoi
Released: 2006
Status in Country of Origin: Complete
Scanlator: Cesegura, Fujoshi Ninja, Hana wa Saku ka, Ikahomine, Nakama, Noizbox, Seductive Sugar Translations
Summary: Sakurai, who works for an ad agency, bumped into a young man on his way home. He dropped some business materials and a magazine and messed them up. Luckily, the young man happened to have the same magazine and offered Sakurai to hand it over, so Sakurai followed him to his house. The young man, Minagawa Youichi, was a college student and owned a big old house, which was used as a boarding house. Sakurai thought Minagawa was unsociable and hard to go along with, but somehow he started to visit his house frequently and…
Download Hana wa Saku ka Manga:
n/a
Read Hana wa Saku ka Online:
n/a
---
Post's Author Opinion:
Note: This is a personal opinion, it does not reflect YaoiOtaku's official position towards the manga.
There is one thing I would like to change about this manga and that is for me to read the manga before I watch the film, because I did it the other way around and in hindsight that was not a good idea.
The plot developed very nicely with a little bit more revealed every chapter. There are significant differences between the manga and the film in which the film is nowhere even close to how great the manga is and leaves out a lot of details, so I was glad to have the manga shed some light on some of the relationships and histories of the characters, both main and supporting.
Speaking of the characters, I liked how no one was forgotten. The author went well into every one of them, revealing key points regarding what they were doing there, how they got there, and where they might head to. Every character was well thought and had a purpose, which I appreciate a lot and made reading very smooth. The focus shifted from one character to another, something that's pretty new to me. I don't think I read a manga before where this much focus was put on the side characters and I'm all in for it. It was a very nice experience and I'm glad this is the first manga to have experienced it on.
The art was very pretty, but more than anything I loved looking at Youichi and Sakurai being close. Them hugging or kissing was so, so nice to look at. Probably because of how the plot advanced it was so much more impactful than other mangas I read and I loved it a lot. A few times I just stared at the page, going over the lines and taking in the image of affection in front of me.
Hana wa Saku ka was so pleasant to read, I enjoyed it so much. I loved the main characters and the way the plot unfolded so nicely.
What's your opinion on Hana wa Saku ka manga? Please let us know in the comments below.