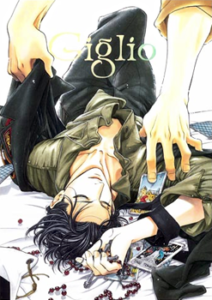 Manga: Giglio, Lily (INARIYA Fusanosuke), ジーリオ
Author: INARIYA Fusanosuke
Genres: Adult, Drama, Historical, Smut, Yaoi
Released: 2007
Status in Country of Origin: 2 Chapters (Complete)
Scanlator: Dangerous Pleasure, Mysterious R
Summary: A wounded soldier with a disturbed mind kidnaps the priest who tries to help him. He then has the brilliant idea of going AWOL with the priest. He's in the middle of the African desert in WWII, with supplies running low and his sanity (or is it his morality?) long gone. All that's left is pleasure and agony. And maybe, eventually, death.
Download Giglio Manga:
Giglio
Read Giglio Online:
Giglio
---
Post's Author Opinion:
Note: This is a personal opinion, it does not reflect YaoiOtaku's official position towards the manga.
Inariya Sensei's art impresses in this manga too, as always. The story is unique, controversial, the way she explores the dephts of human restraints, perversions and sanity remains unparalleled.
There will be a lot of different opinions over this manga, some will find it hot, some gross, some disturbing, which is pretty normal, as Giglio was meant to challenge the human mind.
Placed on a battlefield, in tough conditions, involving rape, castration, Inariya Sensei weaves fantasy, pain, emotion and tragedy in this tale, which I recommend for the fans of the genre and those who are looking for something deep, tough, to read. If you want to have your mind challenged, Giglio is definitely a good choice, but if you are instead looking for a light, fun or humorous manga to read for relaxation, Giglio is not for you.
What's your opinion on Giglio manga? Please let us know in the comments below.