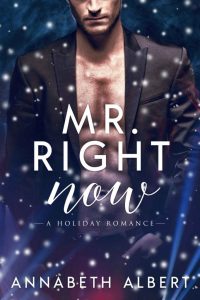 Novel: Mr. Right Now
Author: Annabeth Albert
Genres: Romance, Christmas
Released: 2019
Part of Book Series: Standalone
Summary: When Russ suffers a Thanksgiving disaster, his gorgeous neighbour Esteban is there to save the day. And after an innocent mix-up leads to the former Hollywood hottie playing the role of Russ's date, Russ thinks scoring Esteban as his fake boyfriend is a huge win. The newly discharged marine is healing inside and out and could use some holiday cheer.
For his part, Esteban is intrigued by his big, bad neighbour. He likes how his matchmaking cat brings out an unexpected caring side of Russ. Desire flares as the reasons to continue their ruse pile up for both men.
And pretending feels so good. From chocolaty kisses to late night cuddles, their burgeoning friendship is getting cosier and cosier. But as the end date for their little deception looms, all the real feelings they've tried to ignore come tumbling in. Each must decide whether they have what it takes to ring in the New Year as a couple.
Mr. Right Now is a stand-alone holiday novella with sweet, low-angst feels, spicy love scenes, and foodie inspired, quirky Oregon romance with a military flavour.
---
Post's Author Opinion:
Note: This is a personal opinion, it does not reflect YaoiOtaku's official position towards the novel.
This novel goes right up on my 'great novels' list.
At first I was worried about where the plot was heading, I leaned to think that Russ was rushing into something he was not ready for, but to my delight (and relief) I was proven wrong. You can't blame me though, because I was not the only one thinking that.
Russ and Esteban make a great pair, they are wonderful together and I liked both of them a lot. I have to give them extra points (on top of the perfect score) for actually talking things out. I can't get enough of characters actually communicating, I am so soft for it and probably influenced my rating a lot.
The novel is way more entertaining than I was expecting, and I loved the display of a new and healthy relationship. It was fun watching Russ and Esteban slowly realize that their make believe relationship started changing and absolutely loved how mature they were about it (did I mention this yet?).
Mr. Right Now is a great Christmas / New Years read (although I read it in June), it is a short story packed with all kinds of fluff and possibly the best 'fake boyfriend' novella I read.
And, oh yeah, it is steamy hot!
What's your opinion on Mr. Right Now novel? Please let us know in the comments below.