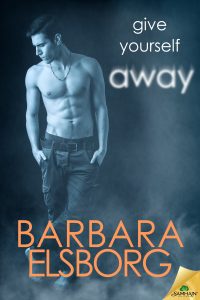 Novel: Give Yourself Away
Author: Barbara Elsborg
Genres: Mystery, Crime, Romance
Released: 2016
Part of Book Series: Standalone
Summary: One guy intent on caution. One an adrenaline junkie. Love could be one risk too many.
March is determined to lose the numbness that accompanies a history of loss and blame. Desperate to feel something—anything—the adrenaline junkie base jumps off cliffs, soars on hang gliders, and embarks on dangerous sea-borne rescue missions. But any release he feels is fleeting, and when you play Russian roulette with fate, eventually you come crashing down.
No matter how hard Caleb tries to forget his past, a dark shadow is always behind him. When a bizarre turn of events results in him being trapped in a sea cave, Caleb wonders how his mantra—safety at all costs—could have failed him. On the point of drowning, he's stunned when March surfaces in the cave.
March's disregard for the rules saves Caleb's life but gets March into a heap of trouble. Not least of which is the guy shivering in the boat next to him. March tries to ignore Caleb but it's already too late. Together, they take small, awkward steps toward love. But Caleb's past is waiting to sink in its claws… and this time, it could drag him to his death.
Warning: This book contains difficult flashbacks of child abduction and sexual violence, but also the incredible perseverance of two men who never give up on love—or each other. Bring your tissues and a heart that believes in the resilience of the human spirit.
---
Post's Author Opinion:
Note: This is a personal opinion, it does not reflect YaoiOtaku's official position towards the novel.
The first thing I did after reading this novel was look up Polunin's performance to Take Me To Church and it was beautiful. You will find out in the end notes (I don't think this is a spoiler, especially if you are not familiar with Polunin) that the performance inspired Barbara Elsborg to shape Caleb into that gorgeous, strong man he grew up into, so I had to see it.
At first I was confused about what was happening in the novel, but I soon started to understand. I am not expecting smooth sailing with Barbara Elsborg's novels, I know I'm going to get angst and pain and terrible everything, but oh my! I hurt for Caleb. Every single person around him was a knob. Awful people, all of them, and he deserved so, so much better, a whole world worth of better. It goes without saying I disliked Mike and I was not sorry for what he had coming at him, but I also disliked Victor and Jamie. They were at no point Caleb's friends and that's a sin.
March on the other hand had it better in the friends department, with the guys from RNLI-which is a very real and amazing service-and with Andy for whom I was very grateful for being an actual good friend. I wanted to hug him.
Caleb hides his past, there are things he doesn't talk about (and here enter the warnings in the synopsis), but something about March makes him want to open up and tell his story for the first time. Although there were some hiccups on the way, March was pretty great, he was patient and considerate and wholeheartedly there for Caleb. Offering his support, a hug, or just simply being there when Caleb needed him. I was glad to discover he was a fast learner and very honest with himself. That honesty saved them both a lot of heartache (like any more would have been necessary).
Caleb and March embarked on a journey with each other. They had to deal with their past, with the things they didn't want to talk about, or that pushed them into a closet, and also learn how be with each other, how this whole relationship thing works and what they wanted from each other. Well, one of these things was the really easy one, the others needed a bit of work. In the end they both did amazing progress and I am so happy about that.
Now, about those warnings. If I could describe Barbara Elsborg's novels by only one word, that would be dark. If you are easily triggered or if you just don't like the main characters suffering, I do not recommend her novels, but if you are okay with that, go for it. As dark as they are, Barbara Elsborg manages to also bring out some light, the purpose is not to torture everyone, but to show their journey, to give hope, to write characters who strive despite all odds. I think this is why I like her novels so much.
What's your opinion on Give Yourself Away novel? Please let us know in the comments below.