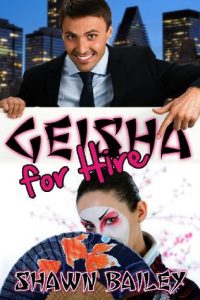 Novel: Geisha For Hire
Author: Shawn Bailey
Genres: Romance, Cross dressing, Yaoi
Released: 2012
Part of Book Series: Standalone
Summary: Jayce Ito thought there was nothing he wouldn't do for his childhood best friend, Marley Bonds, until she asked him to help her out posing as a geisha for a client's birthday party. He'd done a lot of foolish things for Marley, but this just bordered on insanity—especially when the recipient of the gift turned out to be none other than his new boss, Reuben Danza.
Reuben Danza had received some outlandish birthday gifts in his thirty-two years on earth, but when his best friend Payton Roberts hires a beautiful geisha to perform at his birthday party to impress some important clients, the drunken Reuben decided to let loose a little and show the Japanese men that he really knows how to have fun. But the plot backfires when Reuben gets interested in the geisha and wants to date her.
---
Post's Author Opinion:
Note: This is a personal opinion, it does not reflect YaoiOtaku's official position towards the novel.
There is a reason why I avoid reading books that are heavily inspired by anything Japanese but not written by a Japanese author or someone who has a deep background in the culture. As a person who has fair credentials in Japanese, I am rather critical towards said context and can't help but to nitpick at the details featured in this book.
I applaud the author for having the confidence in writing a book that highlighted the aesthetics of another culture, especially one as rich as Japanese. Purely on my conclusion however, it was done in poor research that induced a lot of cringe on my part. Some of the details might be close to accuracy, but a majority of them were a misrepresentation of the culture. As for the story, it was something that one might find in a typical yaoi manga – Older, richer, powerful seme (top); pretty, can't-say-no uke (bottom) and the almost comedic way of how their relationship developed.
I am not one to discourage people from reading something because as an amateur writer, I always appreciate people reading my work, so if you really don't mind reading books just for fun and not for the content, go ahead and give it a chance.
P/S: I need to bleach my eyes after looking at the cover so many times while composing this review.
What's your opinion on Geisha For Hire novel? Please let us know in the comments below.