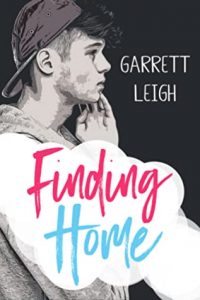 Novel: Finding Home
Author: Garrett Leigh
Genres: Young Adult, Coming of Age
Released: 2017
Part of Book Series: Standalone
Summary: With their mum dead and their father on remand for her murder, Leo Hendry and his little sister, Lila, have nothing in the world but each other. Broken and burned, they're thrust into the foster care system. Leo shields Lila from the fake families and forced affection, until the Poulton household is the only place left to go.
Charlie de Sousa is used to other kids passing through the Poulton home, but there's never been anyone like his new foster brother. Leo's physical injuries are plain to see, but it's the pain in his eyes that draws Charlie in the most.
Day by day, they grow closer, but the darkness inside Leo consumes him. He rejects his foster parents, and when Charlie gets into trouble, Leo's attempt to protect him turns violent. When Leo loses control, no one can reach him—except Charlie. He desperately needs a family—a home—and only Charlie can show him the way.
---
Post's Author Opinion:
Note: This is a personal opinion, it does not reflect YaoiOtaku's official position towards the novel.
Romance is not the first word I would use to label this novel. I'd first go to drama, then young adult, and then romance. That is to say the romance is not the focus of this novel and I for one am really happy about it, but other readers might expect it and be disappointed when there is not much of it.
Reading the synopsis I thought the novel sounds interesting, but finding out that the two main characters are only 15 years old put me to a halt for a while. Still, this being a Garrett Leigh novel I just couldn't ignore it so I went ahead and read it. I loved it from the very first pages. I'm always amazed by authors like Garrett Leigh, by their ability to express so clearly what the characters go through.
I felt for Leo, he witnessed something that no one ever should, and sadly these are things that happen all around us. Another reason why I appreciate these kind of novels is because they put things in perspective and helps us better understand situations that are foreign to us and what people in those situations go through.
Focusing on the fact that Finding Home is, thankfully, a work of fiction, I enjoyed it a lot. While Lili didn't have as much trouble feeling comfortable in a new home, Leo kept himself on guard. There was a battle going on inside Leo and it was hard for him to accept the fact that he needed help. Luckily, Charlie, and the whole of Poulton family, were more than ready to patiently offer a hand. I liked seeing how Leo gradually started feeling more comfortable with his surroundings. It took some time and some fucking up, but his feelings didn't let him to entirely turn his back.
It goes without saying I loved Leo and Charlie, but I must say I was really happy for having Fliss around. She had a pretty tough mask on, but inside she was filled with warmth and care. Her and Charlie's relationship is that of two typical siblings and sometimes Charlie needed some pointing out to see that she is not all that bad. Well, she's not at all bad.
The plot is believable, the character's journey is realistic and that only makes this an even more enjoyable read. But again, don't expect loads of romance when going into this, it won't happen (they are 15 years old, I would have felt uncomfortable if anything other than kissing would have happened between the two main characters), this focuses more on the characters and the situation they are going through.
What's your opinion on Finding Home novel? Please let us know in the comments below.