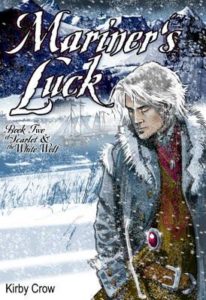 Novel: Mariner's Luck Novel
Author: Kirby Crow
Genres: M/M Fantasy Romance
Released: 2006
Part of Book Series: Scarlet & White Wolf
Summary: In this second book of the Scarlet and the White Wolf trilogy, Scarlet the pedlar and Liall the bandit find themselves among hostile company aboard a Rshani brigantine headed north through icy waters. Liall has been summoned home to Rshan na Ostre by way of a cryptic message. Scarlet, after a near-fatal encounter with bounty-hunters seeking Liall's head, recklessly follows Liall into danger. Now the unlikely pair -a slight, honorable Hilurin and a giant northern rogue- are relentlessly pursued over rough seas on a perilous journey for Liall to reclaim his past, but what new dangers will await them in the fabled Land of Night?
---
Post's Author Opinion:
Note: This is a personal opinion, it does not reflect YaoiOtaku's official position towards the novel.
Beautiful.. Heart-warming.. Very well written plot with brief touch of adventure. This is second book in series particularly focus on relationship of scarlet & Liall. Almost the entire plot is on the ship as author takes us further on journey to the north.
I didn't like the some repetitive narrative in book like scarlet getting sick & Liall nursing him back to health then liall getting sick & scarlet nursing him back. Trapped in a closed cabin is likely to cause misunderstanding & eventually hurting each other. But i loved dynamic between both of them & they have made significant progress in their relationship. Time & again scarlet has proven that he is brave, courageous as he comes to Liall's rescue & also Liall is no less in his attempts to protect scarlet from any harm. But in order to protect scarlet Liall has to keep some secrets & keeping secrets in relationship definitely turns into disaster.
Constant hum of their love, up & downs in their relationship, captivating plot keeps engaged thoroughly in novel. I must confess i am in love both with scarlet & Liall. They are different & have very different roles to play. I fell hard first for the handsome rogue Liall but stubborn, proud, loyal scarlet caught my heart after. I would definitely like to read next book of series. (Can't wait to finish it… 😉 )
What's your opinion on Mariner's Luck novel? Please let us know in the comments below.