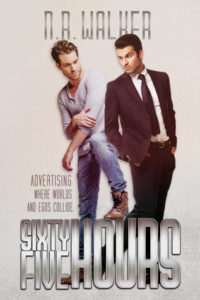 Novel: Sixty Five Hours
Author: N R Walker
Genres: MM Contemporary Romance
Released: 1st November 2012
Part of Book Series: Sixty Five Hours Book 1
Summary: Cameron Fletcher and Lucas Hensley are advertising executives who have Sixty Five Hours to pull together the campaign of their careers.

Sixty Five Hours to get along. Sixty Five Hours to not kill each other. Sixty Five Hours to fall in love
---
Post's Author Opinion:
Note: This is a personal opinion, it does not reflect YaoiOtaku's official position towards the novel.
A beautiful plot.. brilliantly written by author.. its perfect light comedy. I can read it like ten times & couldn't get bored. You cant put the book away until you finish it completely. This book made me fan of N R walker & i couldn't help but browse through other titles of this author.
Our one of the protagonist & narrator Lucas is employee at prestigious advertising firm & so is Cameron but he is also a boss's son. At first due to couple of misunderstandings they didn't get along. Lucas got perception that Cameron is wealthy, smart, handsome but cold, straight, arrogant with everyone fawning over him & also that Cameron couldn't stand sight of him.
But fate had other plans. Their boss present them with task of getting contract from 'Lurex' one of the biggest manufactures of condoms, lubes & other sex aides. They have total 65 hours to come with presentation with total research for Lurex team. They had to put their differences aside & work on presentation to get that deal. But one thing that didn't know that Working together for 65 hours will change their lives forever.
This plot has its moments, some tender & heart touching, some funny, some drool worthy & some steamy cum juicy ones. ( PS – At everyone instant of imaginary hat tipping by Lucas made me smile goofy.) I am sure Lucas is brilliant but Cameron was really adorable ( His sock fetish had me in split & fawning over him..that was hilarious..) Cameron & Lucas make wonderful couple. They made me smile , they made me 'aww' & they made me fall in love with them every single time.
Somewhere in their work & research during weekends for presentation secrets get spilled, misunderstandings get cleared & they both realize that attraction is mutual. Since then starts budding romance. I loved every word of plot, their banter, their fetishes, their fight, their romance & intense lovemaking. I really loved Cameron's family. They are accepting & open minded like every other parents should have. You guys really should go for it, You won't be disappointed..  🙂
What's your opinion on Sixty Five Hours novel? Please let us know in the comments below.