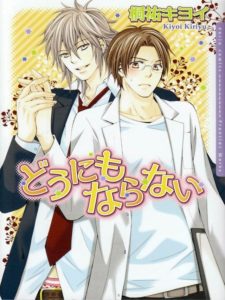 Manga: Dounimo Naranai
Author: Kiriyu Kiyoi
Genres: Comedy, Romance, School Life, Yaoi
Released: 2009
Status in Country of Origin: 1 Volume (Complete)
Scanlator: Shinmakoku Scanlations
inmeliora
Summary: From Shinmakoku Scanlations:
Yosemine Takumi is a difficult student to handle. He's used to get what he wants by using his family's strength in school. The new Infirmary Nurse, Tsutsui, is determined to change all that. He's not going to let himself be bullied by Yosemine, or anyone else, after all these years. But Yosemine has fallen head-over-heels in love with Tsutsui-sensei and set the goal on owning the nurse for himself!
Download Dounimo Naranai Manga:
Dounimo Naranai
Read Dounimo Naranai Online:
NA
---
Post's Author Opinion:
Note: This is a personal opinion, it does not reflect YaoiOtaku's official position towards the manga.
This manga is one of those stories where there is probably a group of people who really like this type of storyline, but for others it may not appeal to them. I personally did not care much for this story, though i checked it out because sometimes the Student/Teacher relationship with a Seme Student and an Uke Teacher are cute and sweet.
Despite the artwork being very pleasing and pretty, the story was lacking. The characters weren't all that interesting and the relationship was really strained and actually not that interesting. Sadly I was more interested in the secondary couple (Takumi's Father and his Secretary.) There are overused cliches and the idea of Takumi (the Seme) hating the idea of Tsutsui (the uke) having friends was something I didn't find romantic, cute or appealing at all. It was also not cute that the Seme is really nothing more than a spoiled brat who is used to getting his way, and uses the power of his father being the head of the school to throw his weight around just to get what he wanted. I actually felt sorry for Tsutsui because he has been harrassed in the past and then gets raped by a teenager who then claims to love him (because that's what you do when you love someone….Right…)
The only thing that really got me to get through it was the art, and the fact that there were at least some amusing parts in the main couples story. But the biggest thing that got me to actually complete this manga was the relationship between Takumi's father and his secretary. Again, this is a relationship built on a bunch of overused cliches, but the characters themselves were interesting and a bit more likeable, though even Takumi's father is a jerk in his own right. Their relationship, or the development of the relationship was a bit more interesting since Takumi's father grapples with whether or not he can return his secretary's feelings or not, due to being a widower, a homophobe and being a jerk who likes to meddle in the businesses of others.
This manga isn't terrible, and certainly not the worst I've ever read, but I have also read much better yaoi that is based on cliches. If you really don't have a lot of options and you just want something to read that is simple and doesn't have a lot of depth to it, then this is a good albeit slow and long read. Also, if all you are interested in the sex scenes, this manga does have some decent ones which will also help you get through the severely lacking storyline.
What's your opinion on Dounimo Naranai manga? Please let us know in the comments below.