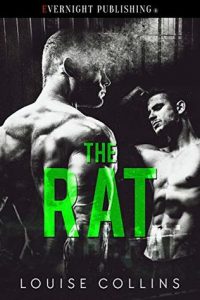 Novel: The Rat
Author: Louise Collins
Genres: Prison, Crime, Romance
Released: 2019
Part of Book Series: Standalone
Summary: Rory's not like the other inmates. In fact, he's not an inmate at all. He's undercover, tasked with gathering information on Sebastian Claw. He's planning something for his upcoming release, and Rory needs to find out what.
Rory doesn't like the Sebastian of the past—the murderer, or the Sebastian of the future—the plotter. He does like the Sebastian of the present. The one he shares his cell, his body, and possibly his heart with.
The line between what's right and wrong, what's good and bad, start to blur. But if Sebastian finds out who Rory is, he's a dead man.
---
Post's Author Opinion:
Note: This is a personal opinion, it does not reflect YaoiOtaku's official position towards the novel.
After I read The Psychopath and The Freshman, I finally managed to read The Rat as well. The only thing these three books have in common is the setting, they are all set in a prison of some sort, but other than that, they are not connected. Despite that, I can't think of them as not being related and I wonder why the author made the decision to not bundle them up.
Anyway.
I did not enjoy The Rat as much as I thought I will. If anything, by the end of the novel my excitement and interest went lower and lower. I already knew where this was heading and although I couldn't pin point exactly how all was going to go down, when the plot was revealed to me I just shrugged and moved along.
I didn't like the main characters very much. They didn't feel like prisoners to me, but more like college students, they were too soft. I got an explanation for that, but it still didn't feel right or even remotely realistic.
Rory is the worst spy there ever was, he has no idea what he's doing, but that's not really important because he's not doing much anyway.
The prison psychiatrist is the most useless psychiatrist ever and I don't know how he still holds his job. Young, okay, but incompetence doesn't sit well with me. But hey, no worries, Rory is there, fixing everything. Wait, what? Ugh.
While I did manage to get through most of the book fairly easy, the last few chapters were so cringy. For the most part the novel held its pace, but towards the end, Louise Collins seemed to be in a rush and I really didn't like how the character's emotions weren't dealt with properly.
I managed to read these three books, but I am not going to jump into another Louise Collins novel any time soon.
What's your opinion on The Rat novel? Please let us know in the comments below.