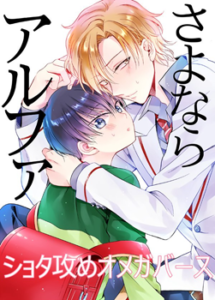 Manga: Sayonara Alpha
Author: ICHINASHI Kimi
Genres: Comedy, Drama, Romance, Shotacon, Yaoi
Released: 2016
Status in Country of Origin: Completed
Scanlator: Omegaverse Addicted Scans
Summary: Meet Chika, a high school student who thinks he's the best since he was born. He realizes he's not the top gun Alpha that he always thought he was when he meets his "destined partner" for the first time… who just happens to be an elementary school kid.
Download Sayonara Alpha Manga:
Read Sayonara Alpha Online:
---
Post's Author Opinion:
Note: This is a personal opinion, it does not reflect YaoiOtaku's official position towards the manga.
Review: For those who love omegaverse, this would be a cute, funny and fluffy one to pass your time. For those who don't, do give this manga a chance and try it. Unlike your usual omegaverse type of manga, there is no non-consensual scene when this genre is involved.
Story: Imagine a person who had his/her belief destroyed in just one day. This is a story of an omega who assume that he is an alpha just because he comes from a line of alpha. Not only that, his alpha is a kid. Don't worry though, no crime is committed here.
Art: Won't say the art is very pretty, but just clean and pleasing to eyes to me. Although characters in this manga really do love to blush a lot.
Characters: Chika isn't your stereotypical high-schooler omega, he is not weak and is able to protect those around him. Although when it comes to facing his alpha, he is weak in his knees.
Haruka is a cute elementary schooler alpha, much younger than Chika. However, in the story, he made one decision which is way more mature considering his age. He is considerate and look up to Chika as his role model.
Conclusion: Overall, I find this story a good read. Don't be scared away by the cover. This story is complete and scanlated.
What's your opinion on Sayonara Alpha manga? Please let us know in the comments below.