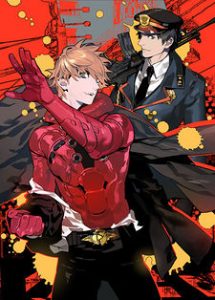 Anime: Samurai Flamenco
Duration: 22 episodes
Alt. Names: Samunenco
Genres: Slice of life, Mecha, Action, Comedy, Parody
Released: 2013
Status: Complete
Summary: Masayoshi Hazama is a 19 years old famous model, but his dream is to become a true super hero. Patroling the streets as the vigilante Samurai Flamenco, Masayoshi meets the policeman Hidenori Goto, who is the complete opposite of him.
---
Post's Author Opinion:
Note: This is a personal opinion, it does not reflect YaoiOtaku's official position towards the anime.
Describing this anime is hard. First of all, it is impossible to completely describe the genre if not parody. This is a mix of different genres, a parody of mecha anime, slice of life, action and super heroes, with a hint of romance, which is quite subtle, between Masayoshi and Hidenori.
Samurai Flamenco is one of my favorite anime because it was, without a doubt, the most hilarious strange anime experience I have ever had, on the likes of Gintama, but slightly shounen ai. The relationship between Goto and Masayoshi is the heart and the constant of the anime, even with all the changes in genres, absurdity, sudden violence and tragedy, and it does pay off at the end.
The only thing I can say is that episode 7/8 is where it all starts, and I wish I could experience this anime all over again!
What's your opinion on Samurai Flamenco anime? Please let us know in the comments below.