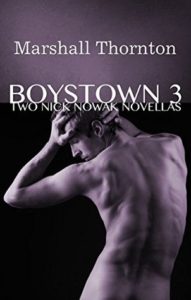 Novel: Two Nick Nowak Novellas
Author: Marshall Thornton
Genres: Mystery
Released: June 1st 2011
Part of Book Series: Boystown #3
Summary: In the two novellas that make up the third book in the popular Boystown Mysteries private Investigator Nick Nowak works two challenging cases and grapples with an even more challenging personal life. In Little Boy Boom, Nick's car explodes when a thief attempts to steal it. Realizing the bomb was meant for him, Nick sets out to discover who wants him dead only to find that the list of possible suspects is longer than he'd like. When he begins to run out of suspects he wonders if the bomb was truly meant for him. Little Boy Tenor finds Nick investigating the murderer of a church choir's star tenor, while at the same time his friend Ross asks him to discover the truth behind his lover, Earl Silver's mysterious death. As he juggles the two cases, he becomes increasingly disturbed by what he learns.
---
Post's Author Opinion
:
Note: This is a personal opinion, it does not reflect YaoiOtaku's official position towards the novel.
Book 3 isn't much different from book 1 and 2 structure-wise, but the way I personally reacted to this one was very different from the first two. We're getting closer and closer to the world-wide HIV discovery, and meanwhile quite a few characters are already dying from it. It's not a fun thing to read about, and the feeling of more bad news to come never quite goes away.
What was Good:
– everything that I liked about the previous books
– This one particular quote:
"Sorry. I like men with hair on their balls."
He sighed and said, "I call that discrimination."
"Call it what you want. It's not my fault my dick's a bigot."
What was Bad:
– the mysteries seemed a bit more dragged out in this book, maybe because both of them were longer this time.
The Verdict:
It's amazing, it's interesting and it baffles me to no end why this series isn't more famous.
What's your opinion on Two Nick Nowak Novellas novel? Please let us know in the comments below.
You need to login or register to bookmark/favorite this content.