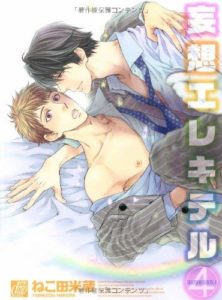 Manga: Mousou Elektel, Elektel Delusion, 妄想エレキテル
Author: NEKOTA Yonezou
Genres: Yaoi
Released: 2009
Status in Country of Origin: 4 Volumes (Complete)
Scanlator: Dangerous Pleasure, NijiNiji Nikubou Scans, Yaoi Is Life
Summary: Skipping class on the rooftop one day, Shunpei's best friend Fumi tells him he thinks he might be gay. All set to freak out ("Then up 'til now he's been thinking that way about me?!") Shunpei's a bit nonplussed when Fumi's confession turns out… to have nothing to do with him at all! In fact, Fumi's already going out with someone else. Cue adolescent meltdown.
Download Mousou Elektel Manga:
Mousou Elektel
Read Mousou Elektel Online:
Mousou Elektel
---
Post's Author Opinion
:
Note: This is a personal opinion, it does not reflect YaoiOtaku's official position towards the manga.
What was good:
– full consent
– childhood friends dynamic
– very good pacing in the beginning
– very sweet main characters
– breaking of uke/seme stereotypes
What was bad:
– the uke's annoying sister
– a dragged out second half of the manga
– the art style is not my cup of tea. But that's very subjective, of course
– not enough extras/spin-off/sequels:)
The Verdict:
One of my favorite yaoi manga out there. The story is very simple, the characters are very likable and there is enough angst to make things interesting. I do think the second half of the manga was worse than the first two volumes, but it was still entertaining and sweet nonetheless. I have reread this one many times and will definitely do it again.
What's your opinion on Mousou Elektel manga? Please let us know in the comments below.
You need to login or register to bookmark/favorite this content.