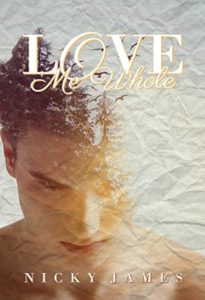 Novel: Love Me Whole
Author: Nicky James
Genres: Romance, Disability
Released: January 13th 2018
Part of Book Series: N/A
Summary: Twenty-eight-year-old Oryn Patterson isn't like other people. Being an extremely shy, social introvert is only part of the problem. Oryn has dissociative identity disorder. He may look like a normal man on the outside, but spend five minutes with him, and his daily struggles begin to show.
Oryn shares his life and headspace with five distinctively different alters. Reed, a protective, very straight jock. Cohen, a flamboyantly gay nineteen-year-old who is a social butterfly. Cove, a self-destructive terror, whose past haunts him. Theo, an asexual man of little emotion, whose focus is on maintaining order. And Rain, a five-year-old child whose only concern is Batman.
Vaughn Sinclair is stuck in a rut. When his job doesn't offer the same thrill it once did, he decides it's time to mix-up his stagnant, boring routine. Little does he know, the man he meets during an impromptu decision to return to college is anything but ordinary.
Vaughn's heart defies logic, and he finds himself falling in love with this strange new man. But how can you love someone who isn't always themself? It may not be easy, but Vaughn is determined to try.
---
Post's Author Opinion:
Note: This is a personal opinion, it does not reflect YaoiOtaku's official position towards the novel.
What was Good:
– the unusual idea behind it
– a lot of interesting information about the Dissociative identity disorder (DID). I believe the book truly did a great job of subtly informing and raising awareness about this rare disorder.
– no easy solutions to the problem
– hard to put down
What was Bad:
– the MC's sudden, out of nowhere obsession with his love interest, even before he exchanged more than 5 phrases with him.
– MC's endless patience and all-forgiving attitude. It didn't feel very realistic that the MC just took it all and asked for more without ever actually feeling bad, tired, frustrated, annoyed or resentful. I think the book wasted a great opportunity to discuss what things are like for the loved ones of people with DID.
The Verdict:
It's an interesting read, and I truly enjoyed it while it lasted, but it just could have been so much better.
What's your opinion on Love Me Whole novel? Please let us know in the comments below.
You need to login or register to bookmark/favorite this content.