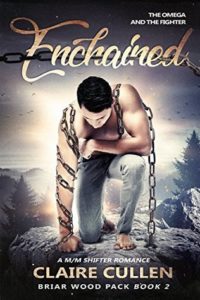 Novel: Enchained: The Omega and the Fighter
Author: Claire Cullen
Genres: Shapeshifters, Romance
Released: July 12th 2018
Part of Book Series: Briar Wood Pack #2
Summary:
As the leader of his pack, Griffin is not a typical omega. As far as he's concerned, he's destined to be alone; unable to bond, trained to kill, and with the responsibilities of a pack on his shoulders. If he was ever to take a mate, they'd have to be unlike anyone he's ever met. An alpha willing to stand back and let their omega take charge? Not likely.
When he finds a feral alpha fighter so dangerous he's about to be killed, Griffin makes the ill-advised decision to intervene. He sees something more than an animal in the alpha's eyes. But whoever the fighter was before, all that's left is anger and instinct. Can Griffin coax the man beneath back to the surface?
---
Post's Author Opinion
:
Note: This is a personal opinion, it does not reflect YaoiOtaku's official position towards the novel.
What was good:
– it's possible to read and understand this book without reading the first one. Author did a really good job of doing it without too many unnecessary explanations
-breaking of some alpha/omega stereotypes, a very nice role reversal
– an overarching plot – if you want to continue the series, there are enough mysteries to possibly make it worthwhile
What was bad:
– everything else
The Verdict:
There are good shifters books out there, this just wasn't one of them for me. There was the whole having a baby obsession again, the character development was quite unbelievable and limited, and the sex scenes were mechanical and boring. Still, I was invested enough to finish it, so it wasn't absolutely horrible.
What's your opinion on Enchained: The Omega and the Fighter novel? Please let us know in the comments below
You need to login or register to bookmark/favorite this content.